Small Business Marketing
Picking a Target Market
Written by Amy Bax for Gaebler Ventures
You have a good idea. Now, who's going to benefit from it? Narrowing the market down makes it easier to succeed. Considering a few important factors can make a big difference.
As a new business or creator of a new product, your final goal is to acquire large numbers of customers in order to be profitable.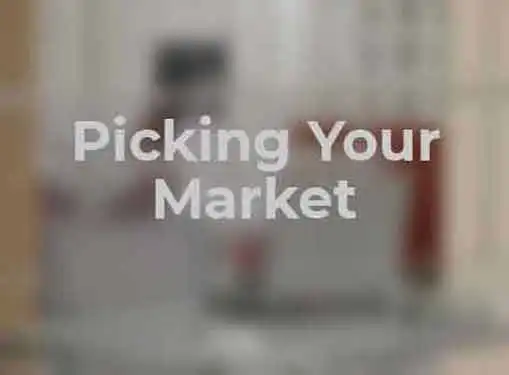 But, trying to attract everyone is a daunting task, and not recommended. It is hard, if not impossible, to please everyone. So finding a way to narrow down who you decide to target your product towards is a good idea that will be more beneficial to you in the end.
Things to Think About
What is the core product/service your business offers and who best benefits from this core product? By picking one market to go after, you will be able to better cater your product/service to that market, along with advertising and other marketing efforts.
Is it a necessity or luxury that you offer? Certain markets (such as teenagers or college students) may not have the expendable income that other markets do. And if they do, make sure they are willing to spend money on your solution to their problem.
If it is a large luxury item or something that requires much expense, it will most likely not be profitable for you to advertise to college students who are on a budget.
How big is this group of people and is there room for growth? Consider the location you are in. For example, a clothing store targeted towards upper and middle income in a smaller town that is composed mainly of lower and lower-middle income families will not do well.
If you are a small or local business just starting out, there are some limitations to how far your reach is going to be and still make a profit.
Realize your interests and skills and communicate these things in your marketing efforts. It helps to know what you do well and is that much better for business if your customers know it, too. If you excel in customer service, make that a feature of your service and try to convey why customers will benefit going to your business versus competitors.
Make sure to be able to communicate well with that market. If you yourself are not a part of that market segment, make sure to regularly consult others on what that market likes, new trends, criticisms/opinions they have for your product, etc.
Running informal focus groups is a good way to keep on top of things. Also, once you pick a target market and cater your product/service to that market, you can create an "ideal customer". This hypothetical customer will help you in decisions regarding what kind of advertising, specials, and other marketing efforts to use.
How many competitors are there? One major barrier to entry, and why many businesses fail in their first year, is the number of competitors they will be dealing with. It also helps to be knowledgeable about what you are up against.
Feel free to secret shop them, see what they offer, do well, and don't do well. This can help set your company apart from the rest if you are able to offer and advertise something you do that they can't.
Remember to make the market you select a priority if you decide to expand. When businesses grow and expand their product line, loyal customers will become upset if they suddenly become ignored or pushed aside for another potential segment of the market.
Amy Bax is interested in providing innovative informational resources to entrepreneurs. She is currently an MBA student at the University of Missouri - Columbia.
Share this article
---
Additional Resources for Entrepreneurs