Point of Sale Marketing
Point of Sale Marketing Tips for Retailers
As a retailer, you know that there's no better time to sell something than when somebody is already in a buying mood. Point of sale marketing puts products in customers' line of sight at the right moment. Here are a few tips for converting point-of-sale marketing into cash in your register.
Point of sale marketing is a tried-and-true retail strategy.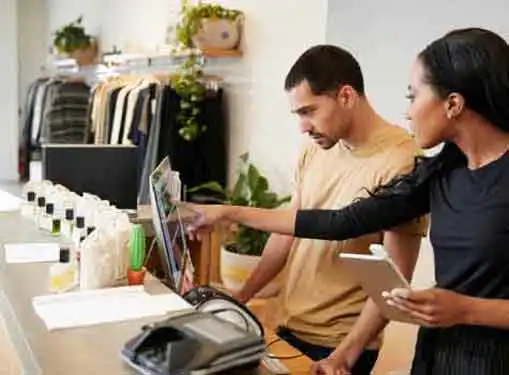 Everyone can relate to that last-minute decision to buy a pack of gum or the experience of listening to your four-year-old plead for a candy bar while you wait to pay for your groceries.
Most retailers know that placing products near the purchase point or checkout station promotes last-minute buying decisions because it leverages the concept that customers are ready to buy – the reality is that they don't have much time to reconsider their decision. So an attractive point of sale display has the potential to boost revenues or encourage the sale of targeted products.
But placing merchandise near the cash register (or in an online business, near the checkout page) doesn't automatically guarantee a sale. There is a right way and a wrong way to do point of sale marketing–and the entrepreneurs who know how to do it right reap big benefits time after time.
To make the most of your own point of sale, keep these point of sale marketing tips top of mind:
Offer complementary products. Some of the most successful point of sale products are items that complement other purchases. For example, batteries are a perennial favorite among point-of-sale retailers. Why? Because even though the customer probably didn't come to the store just to buy batteries, batteries may be a necessary complement to other purchases. The point of sale battery display jogs their memory.
Utilize sales and discounts. Many of the same strategies that work on the sales floor also work in a point of purchase display. Special sales, discounts, and product bundles can be used as added incentives. This can be particularly effective for selling overstocked or fast moving items through point of sale merchandising.
Appearance counts. In a physical retail establishment, customers often have to wait in line or at least spend several minutes at the checkout station. During that time, their attention will naturally be drawn to point of sale displays that catch their eye. It's important to make sure that high priority displays are fun, attractive, and positioned at eye level. If you're stuck remember that manufacturers tend to offer prefabricated displays for popular point of sale merchandise.
Be creative. Generating ideas for effective point of sale marketing is not rocket science. One of the best ways to come up with fresh point of sale concepts is to consider the kinds of point of purchase items you would buy. Pay attention to the point of sale displays and strategies you see other retailers using, and then use your creativity to improve on them.
Share this article
---
Additional Resources for Entrepreneurs