Printers
Printer Features
A good printer is critical for your small business. But which printer features are most important? Although the answer depends on your needs, understanding printer features will help you buy the printer that's right for you.
Business printers and business workflows go hand-in-hand.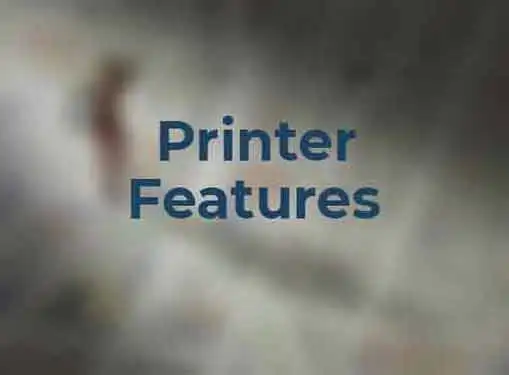 You can't adequately evaluate a business printer until you have nailed down the critical functions you'll need it to perform. There are multiple types of printers that are designed to perform specific functions. Combine that with the fact that each printer comes with its own set of features and you can see how important it is to know what you're looking for before you start shopping.
It's also important to understand that different kinds of printers will require different features. For example, a laser/LED printer that is your primary printing device may need network capabilities, while a photo printer that is only used occasionally can get by without wireless connectivity. With that in mind, here are a few of the features you may want to consider.
Wireless/network capability. Wireless connectivity is an important feature to look for if the printer is used by more than one employee. Although you can connect to the printer through a central server, many small companies prefer the convenience of Bluetooth, WiFi or infrared wireless technology.
USB connectivity. If you don't require wireless connection to your printer, you will need to connect through a USB port. USB ports are standard on all good printers -- including those that offer wireless connections.
Memory card features. Printers that are designed specifically for photo printing often allow users to insert a memory card directly from a digital camera. This is a significant convenience because it eliminates the need to use your computer as an intermediary device.
Print resolution. The quality of your printed documents and graphics will depend on your printer's resolution. Many printer solutions now offer the ability to adjust resolution settings in order to accommodate photos or image-rich copies.
Duplexing. Two-sided printing is now the norm for many business computer users. However, it's not an automatic feature of business printers. Some models may require you to manually feed the paper for printing on the flipside, while others provide an automatic duplex in feature.
Ink monitor. Business printers are notorious for running out of ink at the most inopportune moments. Printers with ink monitoring features help you plan workflows around your ink replacement needs.
Scanning ability. Many business printers now serve as multifunction office devices. Unless you prefer to keep those functions separate, look for printers with a built-in scanner.
Share this article
---
Additional Resources for Entrepreneurs