Startup Articles
Profits vs. Passion
Written by James Garvin for Gaebler Ventures
Passion is the primary ingredient for any entrepreneur to succeed, but focusing on passion alone will not guarantee success. Avoiding the blindness that can be associated with a strong passion and identifying profitable opportunities can help align your passions with the right business opportunities that provide you with greater probability for success.
Passion drives entrepreneurs more than anything, but certainly is not a guarantee of success.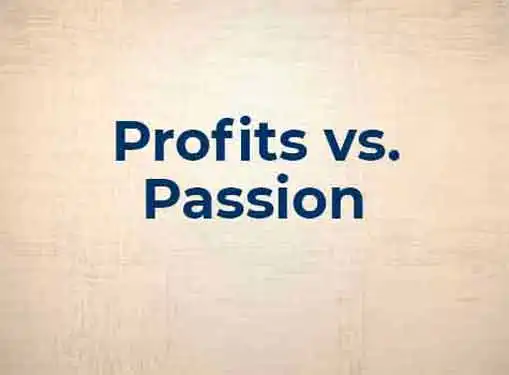 Passion can often blind entrepreneurs from identifying holes and risks in their business that are apparent to external viewers that are not blinded by the same passion that drives the entrepreneur. Because passion does not guaranteed profits, we will look at how entrepreneurs can align their passions with profitable businesses.
As an entrepreneur, it is critical to know what you are passionate about and to follow your passions, but you must also not let those passions get in the way of missed opportunities. Some of the most successful and most profitable businesses are in industries that many entrepreneurs overlook because they are not the exciting or cutting edge opportunities, yet that is exactly why these industries and opportunities are often profitable for entrepreneurs that pursue them.
As an entrepreneur you need to define what your passion is. Is your passion creating new software technology or is your passion simply founding and running your own company? Passion does not have to be category or even industry specific; it can simply be the passion of running your own company. When this is the case, entrepreneurs should look at industries that no one else is looking at. Waste management, recycling, cleaning services are all highly profitable industries yet are almost always overlooked by entrepreneurs. Who can blame them?
However, some entrepreneurs do go into less exciting industries because they realize that profits are easier to come by in those industries. There is far less competition in non-glamorous industries then there is in more exciting and attractive industries such as consumer goods and services or high technology. The more attractive industries are often aligned with entrepreneur's personal interests and passions, but because millions of others share the same interests and passions, they tend to attract a lot of competition and competition as we know is bad for business and will drive down profits for all involved.
The business you own or start does not have to be the most exciting business to your friends & family, in fact it may not be a business that you ever saw yourself going into, but your passion for running your own business is so strong that you are comfortable in going after less glamorous opportunities in order to achieve better returns on your investments.
Entrepreneurship is a fine balance between personal interests, passions, and profits. Your business can not exist with out all three of these core factors. If you are industry neutral, and are more passionate about owning and running your own business, then look at less attractive industries as a way to gain easier market access and higher profits as opposed to trying to fight your way into crowded and personally attractive industries.
James Garvin began his education studying biotechnology. In recent years he has turned his interest in technology to helping two internet startup companies. The first business was an online personal financial network and the second was an e-marketing platform created to help entrepreneurs demo their web sites. Currently a student at University of California Davis, James is spending his summer incubating two new online businesses and writing about his entrepreneur experiences.
Share this article
---
Additional Resources for Entrepreneurs