Real Estate Articles
Retail Leases: Important Terms and Conditions
Written by Brent Pace for Gaebler Ventures
Finding a good retail location is only the beginning of renting your first retail space. The lease negotiation itself will have many important twists and turns. Good legal counsel is always recommended. However, you should understand some of the important terms and conditions yourself. In this article we present some of those key terms and conditions that relate SPECIFICALLY to retail leases.
There are numerous lease clauses that you should be familiar with as an entrepreneur leasing retail space for your company.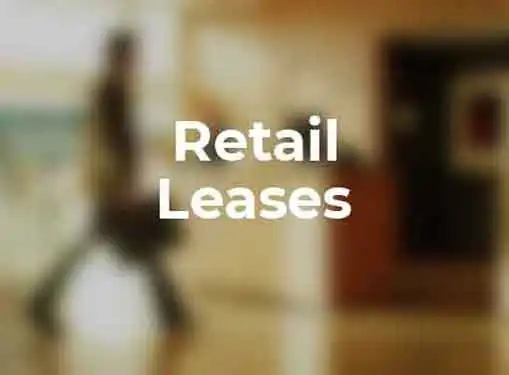 This article is no substitute for legal counsel. However, there are a few lease terms and conditions that are peculiar to retail space that you should be aware of in order to more effectively negotiate the lease for your retail space.
Co-Tenancy Clauses
For many retail operations co-tenancy is a big deal. Take San Francisco based retailer The Gap as an example. If The Gap goes into a mall they don't want to be by themselves. In all likelihood they have a group of retailers that they view as complements. These may include Abercrombie and Fitch, J. Jill, Banana Republic (also owned by The Gap), Aero Postale, American Eagle Outfitters, Ann Taylor, Anthropologie, and bebe among others. It would not be un-common to see a lease requirement where The Gap will only sign if at least 4 of the 7 retailers listed above are in the development. In reality the list would be much bigger, but you get the idea.
If you have similar requirements you may want think about your co-tenancy requirement. You probably won't have the negotiating power of The Gap. But if your business is absolutely dependent on being in the same shopping center as a The Gap, then you better include it in your lease.
Many leases actually contain an opt-out if the co-tenancy is every broken. For instance, in the above example if several of The Gap's co-tenants left the project The Gap could break its lease. These kinds of clauses are negotiated regularly in retail leases.
Included in this discussion are anchor co-tenancy clauses. These co-tenancy requirements focus on a specific store. If you are opening a store in a development that is to be anchored by retail behemoth Target Stores, there is value in that. If Target disappears and is replaced by Jimmy's Second-Hand Store, it can make a very real impact on your cash flow.
So at a minimum consider putting in a co-tenancy clause that includes the anchor(s) of the development you are going in. Target, Wal-Mart, Nordstrom, Macy's, and other like them typically drive the traffic in retail developments. Try to latch on to them formally in your lease.
Exclusion Clauses
While co-tenancy focuses on complements, exclusion focuses on direct competitors. Take another example. Let's say you want to put a Burger King franchise in the corner parcel of a new development. You probably want to negotiate for exclusions to keep out other burger joints. A McDonald's next door could be bad for your business. So could a Dairy Queen, In 'N Out Burger, Wendy's, or Carl's Jr.
This is a simple example but the logic applies. A shoe store will want to be around clothing stores and other accessory stores. But that shoe store may not want to compete directly with other shoe stores in the same development. So make sure that you think about exclusion clauses when negotiating your lease.
Percentage Rent
Percentage rent is peculiar to retail leasing. It is a clause in your lease that allows your landlord to share in your cash flow above certain levels. Anchors typically don't pay percentage rent. As a smaller, and probably slightly less credit-worthy lessee, your Landlord probably feels its risk justifies sharing in your upside. If the shopping center is wildly successful they will want a cut in your revenues above a certain amount.
There is no set rule about how to create percentage rent, but you should avoid giving it away if possible unless it reduces your base rent. You have to decide what you think your store is capable of and weigh the costs and benefits yourself. Just be aware that many Landlords will slip this into your lease and it deserves heavy negotiation.
Brent Pace is currently an MBA candidate at University of California at Berkeley. Originally from Salt Lake City, Brent's experience is in commercial real estate development and management. Brent will have tips for small business owners as they negotiate their real estate needs.
Share this article
---
Additional Resources for Entrepreneurs