Small Business Advertising
Rooftop Advertising
Written by Rayzelle Forrest Young for Gaebler Ventures
Discusses the effectiveness of rooftop advertising and how it can get customers to recognize your business.
As an entrepreneur you need to continuously find effective ways to get and keep more customers and increase your sales, if you're going to be successful.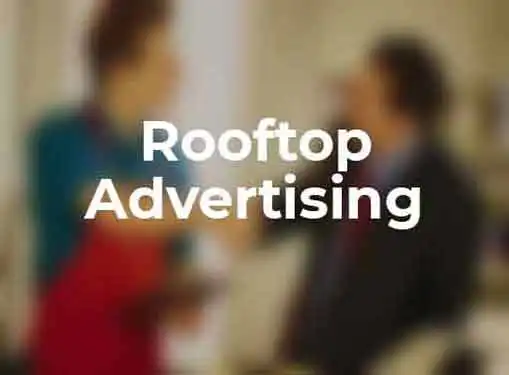 To get the most out of your advertising dollars, you need a marketing strategy that will make your customers and potential customers forget about the competition. The use of inflatable rooftop advertising has the ability to do just that. This method of advertising uses size and color combined with the captivating effect of a three dimensional rooftop display, to get the attention of your target audience. Adding rooftop advertising to your company's marketing campaign can gain the attention of customers that would have otherwise passed your business by.
Big
The best and most recognizable feature about a rooftop inflatable display is how enormous it is. The size of it causes people to naturally pay attention to see what it is. If you see a giant gorilla or an oversized cell phone standing tall on top of a building your eyes will automatically gravitate towards it. You don't necessarily have to use an inflatable display that relates to the type of business you have. Anything large with your marketing message on it or with a sign on it urging passersby to "come on in" will do the trick.
Colorful
The bright and brilliant colors used in rooftop advertising has the effect of a colorful rainbow against a bland blue sky. These colors grab the attention of anyone who is close enough to see it. Imagine an ordinary, dull and gray neighborhood grocery store with nothing special or unique to grab the attention of passersby. That same store can make use of a giant grocery basket rooftop display with food overflowing out the sides of it to get people to pay attention and find their way into the store to purchase products.
Visible From a Distance
Rooftop advertising displays are extremely visible from a distance. Depending on how tall the building is, these displays can tower almost 80 feet into the air. If a building is already 40 to 50 feet tall and a 30 foot display is perched on top of it, that makes for a sight that can be seen long before you're actually up close to it. As you approach it you can't help but wonder what the oversized object is. Once you get up close to it, it's overwhelming size and colors prompts passersby to go inside and do business with the establishment. This can create a significant increase in your company's sales and overall customer base.
Rayzelle is an entrepreneur and writer. Based on her experiences as an owner of her own dance studio, she will share her personal tips on being a successful entrepreneur.
Share this article
---
Additional Resources for Entrepreneurs