Sales Training
SPIN Selling Sales Training
When it comes to sales training, SPIN is a name that should be at the top of your list. SPIN selling by Huthwaite is a sales-focused training method that introduces the power of metrics into the sales training process.
Your sales division needs every advantage it can get to compete in today's markets.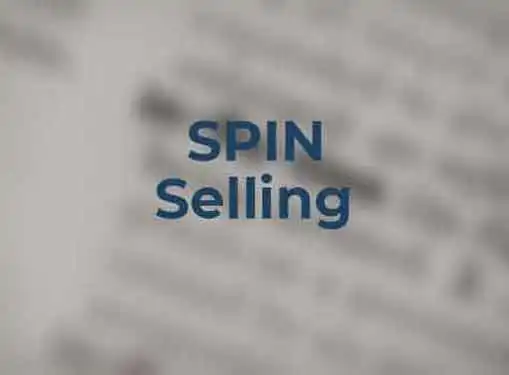 Proactive efforts to educate your staff about current technologies, new selling strategies and emerging sales trends can have a direct impact on their ability to identify qualified prospects and convert them into satisfied customers.
Quality counts when it comes to outsourcing your sales training to a third-party provider. There are plenty of shady sales trainers who are big on promises, but short on results. To avoid losing the value of your investment, you'll need to identify a training provider with the reputation and expertise to achieve the lofty goals you've established for your team.
SPIN selling is an established leader in providing sales training for small and medium-sized businesses. Their sales training programs target the selling process and equip salespeople with granular insights that aren't common with other sales training providers. The backbone of the SPIN training system is built on behavior-based empirical research that separates effective sales strategies from strategies that don't actually deliver customers to your doorstep.
If you're in the market for a quality sales training provider, here are some of the training programs and sales topics SPIN selling sales training is designed to address:
Face-to face sales. Huthwaite's SPIN training programs help sales personnel execute more effective face-to-face sales encounters by equipping them to plan and perform sales calls that put the customer at the center of the interaction.
Sales strategy. Program participants learn about the strategy that is involved with complex sales cycles and gain insights into the specific objectives that are required at each stage of the process.
Prospecting. Most salespeople dislike the task of prospecting. But without prospecting skills, they will never be able to reach their full potential. SPIN training helps participants re-envision the task of sales prospecting and encourages them to approach prospecting from a fresh perspective.
Presentations & proposals. Unlike other training programs, Huthwaite's SPIN training doesn't emphasize platform dynamics or public speaking. Instead, it teaches participants how to present content in a way that has been statistically proven to advance the sales cycle. The program also equips sales staff to create proposals that provide value to customers and differentiate your company from the rest of the field.
Pipeline management. Accurate forecasting is a soft spot of many sales strategies. SPIN addresses the problem head on by giving your sales team a better understanding of pipeline management tools and equipping them to use those tools more competently in the workplace.
Share this article
---
Additional Resources for Entrepreneurs