Inventory Management
Safety Stock
Written by Andrew Goldman for Gaebler Ventures
How much safety stock you carry can seriously impact your customer service and bottom line. Identifying the appropriate amount of safety stock to maintain is crucial to a company's success.
Safety stock is inventory kept to prevent against fluctuations in demand.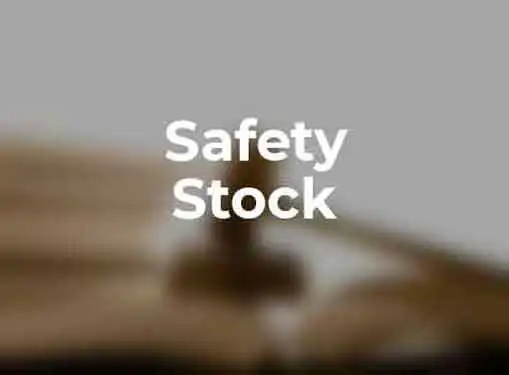 How much safety stock a small business decides to carry can have adverse affects on the bottom line. Too much safety stock can result in high holding costs of inventory. In addition, stored product can spoil, expire or break during the warehousing process. Too little safety stock can result in lost sales and upset our customers. As a result, finding the right balance between too much and too little safety stock is essential.
It is important to understand that the level of service we hope to offer our customers is directly related to the amount of safety stock we keep in house. For example, if we want to maintain a high level of service and offer "off-the-shelf" sales, we'll want to hold additional inventories. If we produce our product or service once a customer places an order, we will have to have high levels of raw material safety stock if we want to turn the product around quickly.
There is a formula available to calculate the appropriate level of safety stock. The formula involves calculating the standard deviation, and for most small business applications is not necessary. If you understand the balance between the cost of holding additional inventories versus the cost of losing out on potential sales, you can come up with a number that works best for you business.
The nature of your demand patterns will very much determine how much safety stock you should keep in house.
If your demand is very consistent and your forecasts are on par with your actual demand, you don't need to carry too much safety stock. If your demand is very inconsistent and you have fluctuating order patterns, you will need to carry more safety stock to meet this volatile demand. The lead time of your suppliers will also impact how much safety stock you should carry.
As your company grows, you should be continually gathering and tracking historical demand data. By interpreting this data you should be able to recognize patterns in your demand. Once this has been established, you should be able to reduce your inventories as expected demand can be better predicted. Ultimately, you want your inventories to decrease. Carrying inventory is usually a non-value added activity. As a result, you should keep your inventories low, and match your production to your demand.
Some companies I visit make the mistake of creating a set safety stock level for all of their products. The problem with this approach is that not all of the products have the same demand. If you have one product that sells very little, chances are, you do not need to carry a lot of safety stock. If you have a product with very consistent demand, you don't need safety stock.
On the flip side, if you have a product that is subject to externalities and the demand is inconsistent, the safety stock level should be higher. It's clear that not all products will have the same demand pattern and therefore not all products should have the same safety stock level.
Andrew Goldman is an Isenberg School of Management MBA student at the University of Massachusetts Amherst. He has extensive experience working with small businesses on a consulting basis.
Share this article
---
Additional Resources for Entrepreneurs