Sales Compensation
Sales Contests
Thinking about running a sales contest? If you muck it up, you could have a sales force mutiny on your hands. Here are our tips for running effective sales contests.
Smart business owners are always looking for new ways to incentivize their sales force.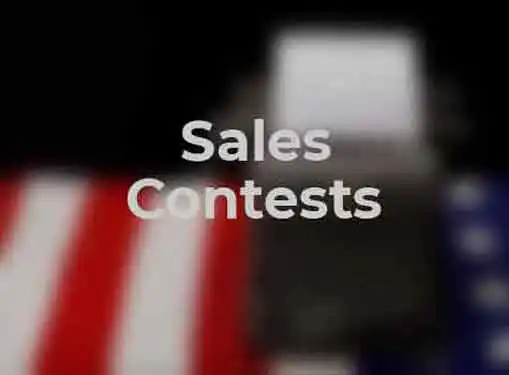 Commission-based sales compensation plans are helpful, but sometimes commissions alone aren't enough to motivate your team to achieve a strategic short-term sales goal. Instead, you'll need to think about creating a sales contest.
Sales contests aren't new; small businesses have been using sales contests for decades, if not longer. But what many small business owners don't realize is that a poorly conceived sales contest can introduce chaos and conflict into the workplace, especially if it isn't executed fairly or if other staff members feel as though their value to the company is being ignored.
At the end of the day, the success of your sales contest is directly tied to the amount of care and consideration you invest in its creation. To help you get it right, we've compiled a list of tips for effective sales contests that you can rely on when it's time to give your team a little extra incentive.
Establish clear guidelines. Ambiguity is deadly in sales contests. If your sales team is working under a misguided set of assumptions, the contest will end in a melee of disappointment, resentment and hard feelings - exactly the opposite of what you were trying to achieve. Clearly articulate the details of the contest in writing before you celebrate the kickoff.
Set achievable goals. It's pointless to set a contest goal of selling 1,000 units by the end of the month if average monthly sales volumes are only 200 units. No one will take the contest seriously and you'll damage your reputation in the process.
Don't have a single winner. Single winner sales contests are doomed from the start because no matter who wins, the end product is a team of discouraged sales reps. Even if prize levels vary, multiple winner contests create an atmosphere of excitement in the organization.
Target individual goals. It's never a good idea to design a contest that pits sales people against each other. Instead, your contest should challenge team members to compete against themselves by offering the same prizes to everyone who achieves the contest's performance benchmarks.
Include support staff. Many business owners make the mistake of excluding sales support staff from participation in sales contests. Support staff members play a vital role in sales outcomes and should be included in every sales contest your company sponsors.
Mix it up. This month's sales contest won't be nearly as exciting if you do it again next month. Mix up your contests by varying contest goals, prizes and achievement levels.
Share this article
---
Additional Resources for Entrepreneurs