Small Business Marketing
Selecting the Right Traditional Media
Written by Amy Bax for Gaebler Ventures
Has the internet completely overshadowed other types of traditional advertising? Is it still worth investing money into? Here is a quick guide to why certain types of traditional media are still effective, along with their disadvantages.
There have been many new and innovative marketing and advertising tactics that have emerged over the last couple of decades.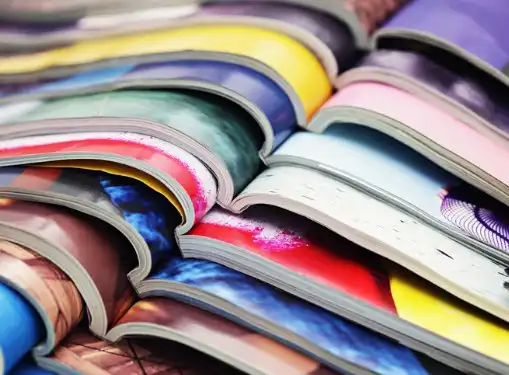 The internet has been one of the more popular devices to use in order to find new ways to attract customers. But that does not mean that you cannot still use traditional forms of media to be successful. People, especially those who are not as technologically savvy, will still pay attention if you get the message right.
Here are a few traditional ways of advertising, why they still work, and what their downfalls may be.
Television Advertising
Through the use of cable and satellite, options in this sector are practically unlimited. Because there are television stations catering to the interests of practically anything, it is easy to cater your message to a direct group of people. Also, this option has a very high reach when it comes to number of people who will be exposed to the ad.
If you have the resources, this can be an outlet that provides opportunity to be extremely creative through visuals, sounds, technology, and what type of appeal to use (humor, sexual, shock, dramatic, etc.). An example of how beneficial this type of advertising can be is the millions of dollars businesses will spend for ad space sold during the Super Bowl.
Granted, a business just starting out does not have that kind of financial ability to advertise during the Super Bowl, but it only proves that companies know the effectiveness of picking the right time and type of programs to advertise on.
A few downfalls also exist along all the innovative features of television. The creation of TiVo and Digital Video Recording allows a viewer to skip over commercials if they choose. Along with that concept, many people choose to change to another channel when a commercial break begins.
This severely decreases the effectiveness of the ad because your target audience is focusing their attention elsewhere. Also, as mentioned earlier, marketing on television is one of the most expensive routes to take when it comes to traditional media. Make sure your company has the budget to do so effectively.
Radio Advertising
Like television, there are many options that make radio advertising easy to segment. Because of the kind of music or format, it is easy for companies to figure out when to play their ads so that the target market they are attempting to attract is listening. An ad for this type of media can be somewhat inexpensive to produce, which is why it is very popular for smaller and local businesses.
Again, like television, radio has lost some effectiveness due to the introduction of new technology. Satellite radio does not give much of an opportunity for advertisers. CD players and iPods also give drivers another choice that does not require listening to ads. And, there is always the chance that people will choose to switch stations as soon as an ad break begins.
Magazine Advertising
This type of advertising has proven its staying power over the years. It is an extremely cost effective option that can be easily segmented because of the large abundance in variety of magazines published. Quality of the advertisement is very high because of color, graphics, and information can be easily included. Most people who read magazines do it during down time or when they are not in a hurry, so their attention span is greater.
Also, it has a long shelf-life. People generally tend to keep magazines around longer than other types of printed media, so it gives the opportunity to be reread, or picked up and read by others- increasing the cost-effectiveness of the ad.
Finally, an ad is also an opportunity to promote sales or specials through coupons or printed information about a number to call or website to go to for more information. People may decide to go online or acquire more information, giving advertisers a second chance to expose viewers to their company or brand.
With the advantages, also come disadvantages to advertising in this way. Because of the internet and other popular news sources, such as television, there has been a decline in readers. Instead of waiting for a magazine to be delivered, people are able to instantly go online to read about news going on that day.
Along with this concept, there is a long lead time until the ad appears in the magazine. Any changes in trends or availability of products will be hard for the advertiser to adapt to because many magazines require the ad design to be submitted weeks or months in advance.
Newspaper Advertising
Newspapers are similar to magazines in many ways. It is even more cost-effective, and can easily reach a large number of people on a regular basis. Some local and smaller companies like to use this because they can segment according to geographic region- allowing for a more targeted approach, even if they cannot segment by other demographics. Unlike magazines, advertising in a paper is flexible, and easier to adjust at a moment's notice if necessary.
There are also things that should make a company cautious about putting advertising dollars into newspapers. Again, like magazines, more people are turning to the internet as a credible news source.
Even though people get the newspaper daily, it is often a day behind- whereas the internet can provide updates every couple of minutes of what is going on at that exact moment. Unlike magazines, the quality, by far, is not near what it is in magazine print ads. Often, printing in color is expensive, and the clarity of pictures is poor.
It is also harder to be more creative with a newspaper- because it is read by everyone; you can not target men over women, one age bracket over the other, and so on. And, because newspapers are printed on a daily basis, newspapers have a short shelf-life. Readers will generally only go through, or just scan, a paper once before getting rid of it.
Which Advertising Is Right for You?
The internet has decreased the overall effectiveness of all of these options over the years, but that does not mean they should be counted out. There are many people who still find the internet as a source that is not nearly as credible as the newspaper.
Also, there are still segments of people to target who are not tech savvy, or do not use the internet at all for one reason or another. And, some small and rural communities may appreciate your company's attempt to integrate itself into the local media as a way for the community to get to know you and what you do. These tools can still be very effective if you figure out the right message and outlet to take.
Amy Bax is interested in providing innovative informational resources to entrepreneurs. She is currently an MBA student at the University of Missouri - Columbia.
Share this article
---
Additional Resources for Entrepreneurs