Ethical Leadership
Selfish Leaders
No one appreciates a selfish leader. But sometimes, admirable leadership traits are confused with selfishness. Here's how to integrate legitimately selfless traits into your leadership strategy.
Selflessness is a commendable quality in a leader.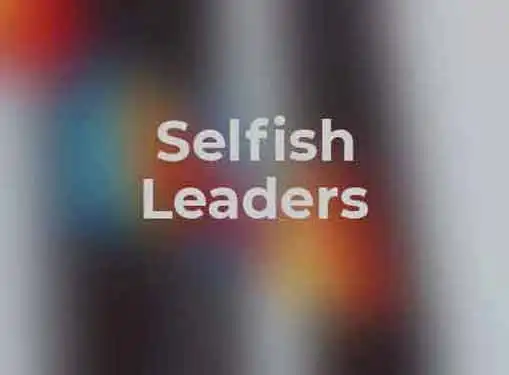 Employees and subordinates are more likely to follow someone who puts the needs of the team above his personal interests. On the other side of the coin, leaders who are perceived to be in it for themselves rarely enjoy the support of their team members.
As a small business owner, it's in your best interest to cultivate and develop a selfless style of leadership. But becoming a selfless leader isn't as straightforward as it sounds. In fact, while selfish leaders aren't hard to identify, selfless leadership can be a minefield of complications and perceptions.
Selfishness vs. Success
The concept of selfless leadership is especially acute for small business owners. If your workforce accomplishes its objectives, your business will be successful. And when your business is successful, you realize a personal gain. So for small business leaders, is success ultimately motivated by selfishness? Not necessarily. It's important to help your employees understand that a rising tide lifts all boats. Everyone has a vested interest in the company's success; when the company succeeds, their payoff is continued employment and advancement opportunities.
Becoming a Selfless Leader
Consideration. Truly selfless leaders never operate in isolation. They carefully consider the impact their decisions will have on the people around them. If a decision makes good financial sense but negatively impacts others within your organization, think twice before you commit to a course of action.
Integrity. Selfless leaders are known for their integrity. Instead of being guided exclusively by the bottom line, they have a carefully defined value system that informs their leadership and orders their priorities. Make an effort to clarify your motivations and if necessary, recruit a friend or business coach to act as a sounding board.
Trust. Genuinely selfless leaders have earned the trust of their employees. If your workers consistently distrust your motives, it could be an indication that you are perceived to be a selfish leader. Be intentional about adjusting your leadership style and dialoguing with your staff to eradicate the trust deficit.
Share this article
---
Additional Resources for Entrepreneurs