Becoming an Entrepreneur
Starting a Campground
Prior to opening a campground, figure out why anybody will bother to care.
Wondering how to start a campground? We take you step-by-step from start to success.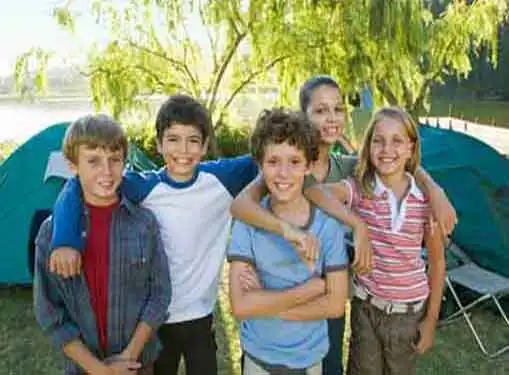 Getting Started in Campground Entrepreneurship
The $5 billion per year camping industry is a vibrant and healthy sector of the U.S. leisure industries marketplace. With campgrounds evenly split between RV parks and recreational/vacation camps, the possibilities are endless for campground entrepreneurs interested in creating thriving and profitable campground enterprises.
The most promising campground entrepreneurs are committed campers with firsthand knowledge of the services and facilities that are important to today's camping consumers. If you haven't done much camping, ease into your startup by visiting several different types of campgrounds and talking with campground owners about their experiences.
Another common on-ramp to campground ownership is land availability. Many campgrounds begin with a landowner who is looking for a way to transform his acreage into a reliable revenue stream.
Campground Startup Requirements
Like any small business startup, campgrounds have specific startup requirements. Although there are a multitude of startup issues that need to be addressed, it's especially important to make sure you have thought through a handful of challenges that often frustrate new campground owners.
Location. Your campground's location is probably more important than you think it is. A beautiful, rustic location is great, but is there anything for campers to do after they have parked their RVs or pitched their tents? In-demand campgrounds are located in communities that feature an abundance of tourist attractions, state parks and nature activities.
Land. If you don't own a large piece of vacant property, buying real estate will be your startup's first major obstacle. Flat open space is good, but you should also look for things like ponds, access to hiking trails and other features that enable you to provide a higher level of customer service.
Zoning. You've found the perfect piece of land in an area chocked full of attractions. Now before you pull the trigger on a land purchase, you'll need to make sure the land can be zoned for use as a campground. The installation of restrooms, traffic considerations and other concerns can potentially create a zoning snafu.
The National Association of RV Parks & Campgrounds (ARVC) is a trade association that is committed to providing resources and assistance to more than 3,700 campground owners throughout the nation. As a startup campground owner, we recommend participating in ARVC or other trade groups to stay on top of campground industry developments and to network with other campground owners.
Elements of a Campground Business Plan
Your campground's business plan should be tailored to your business's unique traits and goals. However, the most effective business plans do address specific sound business plan elements:
Mission Statement – A concise declaration of values, strategy and identity.
Goals & Objectives – The end results of your company's business activities.
Financial, Marketing & Action Plans – Specific plans that describe your business environment, demographic targets and quantitative estimates.
Review the Competition
Prior to opening a campground within your community, it's a good idea to find out how strong the competition is. We've provided the link below to help you generate a list of competitors in your area. Complete the form by entering your city, state and zip code to get a list of campgrounds that are close by.
How are you going to successfully complete with existing firms? It's important that you never underestimate the competition.
Find Good Remote Business Advice
After you've evaluated your local competitors, the next step is to speak with somebody who is already in the business. Local competitors are not going to give you the time of day, mind you. The last thing they want to do is help you to be a better competitor.
However, a fellow entrepreneur who has started a campground in a location that is not competitive to you can be a great learning resource for you, given that you don't compete with them in their area. Indeed, many experienced entrepreneurs enjoy offering advice to startup entrepreneurs. In my experience, you may have to call ten business owners in order to find one who is willing to share his wisdom with you.
How does one go about finding an owner of a campground on the other side of the country to talk to?
We can help. Follow the link below, try a few city/state combos or zipcodes, and then start calling!
Three Arguments for Buying a Campground
For years, street-smart entrepreneurs have known that whenever possible, it's more advantageous to buy an existing campground than it is to start one from scratch.
You'll want to conduct a comprehensive due diligence process, but here are three arguments why you should think about buying instead of a startup.
Initial Revenue. Startups struggle to bring in revenue right out of the gate while existing businesses usually have a steady stream of income.
Operational Efficiency. When you're shopping for a campground, be sure to look for ones that have all of the necessary processes and systems to ensure seamless operations from your first day of ownership.
Capital Acquisition. Lenders, investors and other funding sources almost always prefer business purchases to startups.
Explore Franchising Options
The chances of doing well in business are greatly increased when you franchise instead of doing it all on your own.
If you are thinking about opening a campground, you may want to investigate whether buying a franchise could help you avoid common entrepreneurial mistakes.
The link below gives you access to our franchise directory so you can see if there's a franchise opportunity for you. You might even find something that points you in a completely different direction.
More Advice for Startups
These additional resources regarding starting a business may be of interest to you.
Consideration Before Buying a Franchise
Share this article
---
Additional Resources for Entrepreneurs