Entrepreneur Idea Guide
Starting a Hydroponics Equipment & Supplies Business
Opening a hydroponics supplies company can get you on the path to a secure financial future but it's important to plan out the business in detail before you start. Here is a friendly, comprehensive guide on the essential elements for hydroponics business success.
Thinking about opening a hydroponics equipment and supplies business? We tell you what you need to know to get started.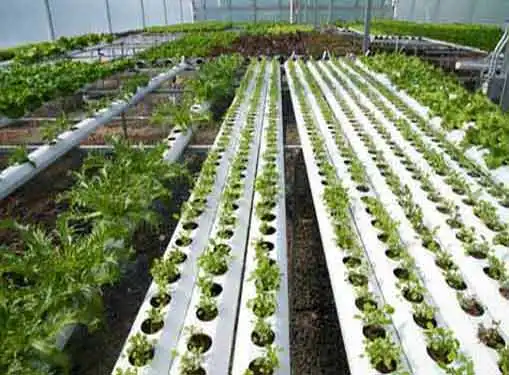 The Hydroponics Value Proposition
The main advantage of hydroponics is that it is soil-free. Rather than growing plants in a patch of earth, hydroponics delivers vital nutrients through water, in a greenhouse environment. As a growing agronomical/agricultural discipline, hydroponics demands technical expertise and a knowledge of sanitary food growing methodologies.
Using vertical stacking and other techniques, hydroponics allows growers to achieve higher yields per acre than traditional growing methods. Since the water used in the growing process can be captured and recycled, hydroponic growing is an attractive option in regions that receive limited amounts of rainfall. Enhanced control throughout the growth cycle means that yields are more predictable and less susceptible to pests or disease.
Hydroponics Equipment and Supplies Startup Opportunities
Prospective startups that want to sell equipment and supplies to hydroponics enthusiasts should identify specific niche opportunities in the growing hydroponics industry.
Here are a few niches that can be pursued:
Marketing Hydroponics Equipment and Supplies
As mentioned above, it's important to have a differentiated offering with a strong value proposition. This involves understanding and addressing market concerns. For instance, the hydroponic growing environment poses a higher risk for salmonella and other pathogens that can jeopardize the food supply. If you are the firm that offers the safest equipment, you can grab market share relative to other hydroponics competitors. Look for other similar niche differentiators and use them as a foundation for your product development and marketing strategies.
Know More About Hydroponics Than Anyone Else
Hydroponics requires a specific skill set that needs to be mastered before you set your business plan into action. If you're unfamiliar with hydroponics growing methods, get educated and test your skills at the hobby level prior to launch. Because this is a new and fast-evolving industry, customers want to do business with firms that are on the leading edge in terms of industry knowledge. Get smart on the industry and you'll find that you are recognized as a thought leader and customers will, accordingly, beat a path to your door. Another upside is that once you have mastered the process, you can offer classes through your business as an additional revenue stream.
Creating a Business Plan for a Hydroponics Equipment & Supplies Business
One of the worst mistakes you can make as a new business owner is to launch your company without having written business plan for your startup hydroponics equipment and supplies business.
The key benefit of writing a business plan is that it defines the game plan. If you don't have a business plan, your leadership will be handicapped, choosing short-term opportunities at the expense of long-term benefits.
Start by defining your business mission. The process of writing a mission statement doesn't have to be complicated. From there, the other piece of the business plan puzzle will begin to fall in place.
Assess the Competition
Before you open a hydroponics equipment and supplies business within your community, it's a smart move to find out what the competition looks like. Try our link below to get a list of local competitors nearby. Simply enter your city, state and zip code to get a list of hydroponics equipment and supplies businesses in your town.
How are you going to successfully complete with existing firms? It's important that you never underestimate the competition.
Find Good Remote Business Advice
If you are interested in starting a hydroponics equipment and supplies business, it's a wise move to learn as much as you can from somebody who is already in the business. If you think owners of nearby hydroponics equipment and supplies businesses will give you advice, think again. The last thing they want to do is help you to be a better competitor.
But, a person who owns a hydroponics equipment and supplies business on the other side of the country will be much more likely to talk with you, as long as they don't view you as a competitive threat. Many business owners are happy to give advice to new entrepreneurs. Our estimate is that you may have to contact many business owners to find one who is willing to share his wisdom with you.
Want the scoop on finding a hydroponics equipment and supplies business entrepreneur outside of your area who is willing to talk?
No problem! Just use the link below and try a random city/state or zipcode. Then start dialing for advice until you are successful.
Benefits of Buying a Hydroponics Equipment & Supplies Business
On a percentage basis, more entrepreneurs intend to enter hydroponics equipment and supplies business ownership through a startup than through a business purchase. However, many new entrepreneurs aren't experienced for the rigors of a startup operation.
There are a lot of factors that need to be considered in buying vs. starting a business. By buying a profitable hydroponics equipment and supplies business, you'll shorten the amount of time it takes to achieve a return on your investment because you'll have the advantage of a proven operation and an existing customer base.
Explore Franchising Options
Your odds of doing well in business immediately improve when you franchise and leverage their successful brand and track record.
Prior to starting a hydroponics equipment and supplies business, you may want to check out whether purchasing a franchise might make it easy to get started.
The link below gives you access to our franchise directory so you can see if there's a franchise opportunity for you. You might even find something that points you in a completely different direction.
Other Useful Articles for Startup Entrepreneurs
These additional resources regarding getting started as an entrepreneur may be of interest to you.
Share this article
---
Additional Resources for Entrepreneurs