Starting a Business
Starting an Aircraft Cleaning Business
If you plan on opening an aircraft cleaning business, priority one is defining your value proposition.
We provide several pragmatic suggestions on opening an aircraft cleaning business.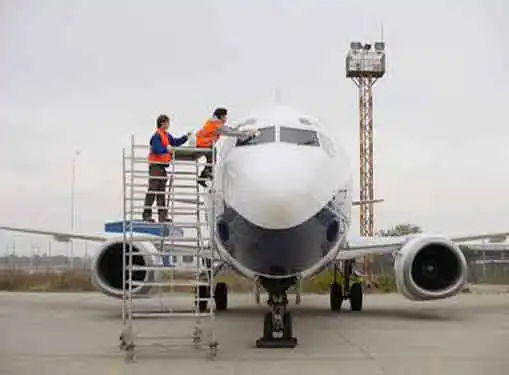 The Demand for Aircraft Cleaning Services
As the number of private and corporate aircraft continues to climb, aircraft cleaning is becoming a lucrative venue for entrepreneurs in the aircraft maintenance industry. For aircraft owners, regular interior and exterior cleaning is about more than keeping up appearances. When it comes to aircraft, excessive dirt and grime can have consequences for performance and aircraft safety.
Typically, owners are looking for reliable, one-stop service providers they can count on to clean their aircraft in a timely and professional manner. Your business could be called on to clean your customers' exterior brightwork and painted surfaces; on the interior, you will be asked to clean wood, leather and other surfaces in the cockpits, cabins and restrooms. From top to bottom, you'll need to know how to quickly transform a dirty plane into a moving piece of art.
Customer Acquisition Tips for New Aircraft Cleaning Companies
The majority of aircraft cleaning companies geographically focus their activities on specific airports or cities. This enables them to concentrate their assets in smaller areas, eliminating the costs associated with constantly relocating their equipment and people to widely dispersed customer sites.
From a customer acquisition perspective, geographic concentration narrows down your target market. Right away, you'll need to identify the owners of private and corporate aircraft in your airport(s) and aggressively pursue their business. You will also need to network with airport managers to make your services available to planes that require cleaning during a layover at your location.
Staffing Secrets in the Aircraft Cleaning Industry
Labor is the most important asset in an aircraft cleaning startup. Professional aircraft cleaning requires a certain amount of expertise, especially in the cockpit and exterior surfaces.
To minimize costs, consider hiring experienced cleaners to handle bright work, exterior surfaces and the cockpit, but assigning cabin and lavatory cleaning to general maintenance hires. By creating a two-tier staffing plan, you get the best of both worlds - expertise and cost-effective hiring.
Another cost savings strategy is to hire workers on a contract basis, paying them on a per-plane basis rather than as salaried employees. This gives workers an incentive to maximize the number of planes they clean and makes it easier to evaluate costs for pricing and planning purposes.
Tips for Generating a Top Quality Aircraft Cleaning Company Business Plan
There is no right way to write an aircraft cleaning company business plan – but there are plenty of wrong ones. Despite the diversity that exists in business plan writing, there are several essential elements that good business plans simply must include.
If you're unfamiliar with business plan essentials, you may want to think about purchasing business plan software. Many business plan software packages integrate with other applications to streamline the process even further.
To guide your search, we've compiled a list of business plan software packages, all of which have proven value for aircraft cleaning business entrepreneurs.
Don't Ignore the Competition
Well in advance of opening an aircraft cleaning business within your community, it's a smart move to determine how you will fit in the competitive landscape. We've provided the link below to help you get a list of local competitors in your area. Simply enter your city, state and zip code to get a list of aircraft cleaning businesses in your town.
How are you going to successfully complete with existing firms? It's important that you never underestimate the competition.
Find Good Remote Business Advice
As part of your due diligence on opening an aircraft cleaning business, the next step is to learn as much as you can from somebody who is already in the business. If you think your local competitors will give you advice, you're being overoptimistic. The last thing they want to do is help you to be a better competitor.
Thankfully, an owner of a an aircraft cleaning business in a location that is not competitive to you may be more than happy to give you a few tips, as long as they don't view you as a competitive threat. Indeed, many experienced entrepreneurs enjoy offering advice to startup entrepreneurs. Our estimate is that you may have to contact many business owners to find one who is willing to share his wisdom with you.
What's the best way to find somebody who runs an aircraft cleaning business in another city who you can speak with?
It's not that hard. Just use the handy link below and enter in a random city/state or zipcode.
Reasons to Pursue an Aircraft Cleaning Business Acquisition
More than a few experts advise prospective aircraft cleaning business startup entrepreneurs to pursue an acquisition strategy. So why should you pin your entrepreneurial dreams on buying an aircraft cleaning business?
The availability of acquisition capital should be a major factor in your decision. Investors and lenders have it and you need it. Yet many are hesitant to fund startups, preferring instead to fund business purchases.
Although there are a lot of factors to consider, the decision to buy a business to get acquisition capital almost always pays off.
Don't Rule Out Franchising
Recognize that your chances of thriving in your new business are greatly increased if you decide to franchise and leverage their successful brand and track record.
If you are thinking about opening an aircraft cleaning business, you would be wise to assess whether there are good franchise opportunities available that might increase your chances of success.
The link below gives you access to our franchise directory so you can see if there's a franchise opportunity for you. You might even find something that points you in a completely different direction.
Related Articles on Starting a Company
These additional resources regarding starting a business may be of interest to you.
Recurring Revenue Business Models


Share this article
---
Additional Resources for Entrepreneurs