Corporate Retreats
Team Building Activities for Corporate Retreats
One of the benefits of a corporate retreat is that it has the potential to unite employees and build a spirit of community. Unfortunately, none of that happens automatically. To get those kinds of results, you'll need a few good corporate retreat team building activities.
Teambuilding is one of the primary goals for your corporate retreat.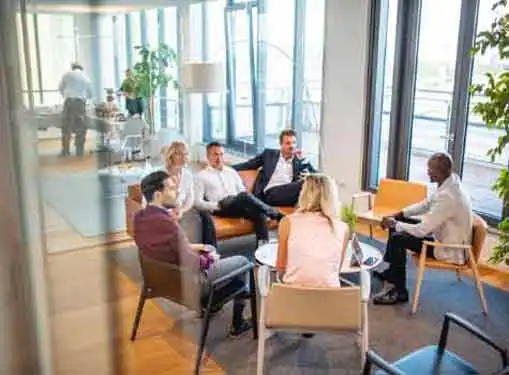 That makes sense because after all, off-site retreats are famous for their ability to forge the kind of relationships that just aren't possible in a typical 9-to-5 corporate setting.
From the outset, accept the fact that you will have nothing to do with most of the teambuilding that happens at your company's retreat. Informal gatherings during retreat down times play a major role in creating relationships that last far beyond the retreat itself.
Even so, there are plenty of teambuilding opportunities that can be integrated into the retreat agenda. The goal for many of these teambuilding opportunities isn't to force employees to do uncomfortable things. Instead, teambuilding activities should always be designed to encourage retreat participants to work together toward a common goal.
Teambuilding activities are not the same as social activities.
Before you can begin to plan successful teambuilding activities, you have to understand the difference between teambuilding activities and social activities. A company dinner, a theme party, or a mixer build relationships, but they don't necessarily strengthen your staff's ability to work as a team.
Be careful to identify the team you are trying to build.
The format you choose will largely be determined by the specific teams you're attempting to strengthen. If you're bringing several offices together, then a corporate Olympics event might be a great way to encourage collaboration among workers in the same branch. However, the same event will probably further entrench rivalries between branches. Also, if your business model is designed to discourage teamwork (e.g. if it emphasizes individual sales achievement), then teambuilding activities won't have a lasting impact.
Incorporate team building exercises & events into your retreat.
Teambuilding exercises are quick hits like "Minefield", an activity in which participants lead a blindfolded coworker through an obstacle course. Teambuilding events are more involved activities like rafting trips. Both can be part of a successful retreat experience. You'll just need to be conscious of the time constraints and other limitations that are involved.
Consider outsourced teambuilding activities.
If you're at a loss about how to organize teambuilding activities with a high takeaway value, you might want to think about outsourcing it to third-party provider. There are a multitude of retreat planning firms that specialize in creative and effective teambuilding activities.
Share this article
---
Additional Resources for Entrepreneurs