Telemarketing
Telemarketing Rates
For a lot of companies, in-house telemarketing is impractical and cost-prohibitive. Outsourcing offers a viable alternative, but what kind of telemarketing rates can you expect to pay in today's market?
It's generally accepted that outsourced telemarketing is more efficient than maintaining an in-house telemarketing unit.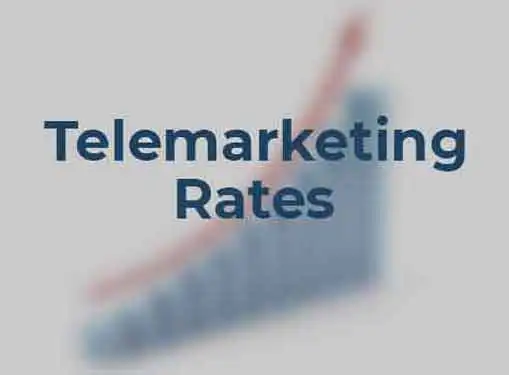 Unless the company has an existing call center with enough bandwidth to accommodate a full-blown telemarketing campaign, it's difficult to justify the startup costs and maintenance requirements of an internal sales unit.
The primary factor in selecting an approach is usually cost. Although in-house call centers are expensive, many business owners are unsure whether they can achieve noticeable cost-savings through outsourcing. It's difficult to estimate telemarketing fees because there are several factors that can affect market rates. Factors such as call volume and contract length can cause dramatic swings in per hour or per call rates.
As a business owner, it's important to know that you're getting the best possible deal from your telemarketer. The best way to accomplish that is by understanding telemarketing rate schedules and the variables that can influence the amount of money you'll need to spend for a quality telemarketing provider.
Rate Structures
Telemarketing rate structures vary according to the type and amount of work you need to outsource. It's common for telemarketers to charge an hourly rate (usually from $25 to $60) and to bill you for the actual time spent making calls. It's possible to find hourly rates beneath the $10 floor, but to get them you'll need to locate your telemarketing functions offshore. Some telemarketers charge a combination of hourly rates and commissions. Although the hourly rate is lower, the amount of commission you'll pay on each sale falls in the 1% to 10% range.
Contract Variables
Like other service providers, telemarketing firms are very interested in securing long-term contracts with their clients. Contract terms can be either time-based or work-based with minimum contracts typically falling somewhere in the 1,000 hour range. However, pilot programs and other incentives exist to make it easier for first-time outsourcers to transition into third-party provided telemarketing services. Not surprisingly, contract length, scope of services, and guaranteed deliverables all have a direct impact on hourly rates.
Cost Management Strategies
It's critical for companies that outsource their telemarketing to include performance metrics in the contract as well as penalties should the provider fall below minimum performance requirements. Many experts also recommend including a non-disclosure clause in the contract to insulate your sales strategy from the competition.
Share this article
---
Additional Resources for Entrepreneurs