Terminating Employees
Termination Agreement Letter
The termination of a business agreement should be easy. But if you bungle the termination letter, you could create controversy, hard feelings and maybe even legal repercussions.
In theory, everyone knows that contracts and business agreements will someday come to an end.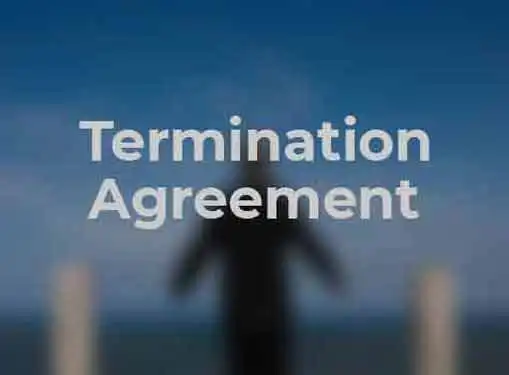 But when the day arrives, it can be difficult for contractors and vendors to accept the fact that their relationship with your company is over. At a minimum, they'll want to know the reason for the termination and whether there is anything they can do to retain your business.
A less amicable scenario is one in which the contractor or vendor takes legal action or publicly trashes your company because they think they have been treat unfairly. So although your termination agreement letter doesn't have to coddle the contractor, it pays to structure it in a way that ends the relationship on friendly terms.
If the concept of writing a termination agreement letter is new to you, consider the following suggestions for writing contract termination letters.
Brevity. Shorter is always better when it comes to termination letters. You don't need to provide blow-by-blow details about the history of your relationships. A simple one or two paragraph letter - that contains the necessary information - will suffice.
Tone. Even if you can't stand the contractor and are sorry you ever did business with him, the tone of the termination letter should always be friendly and even apologetic that the relationship is coming to an end.
Reference contract. It's important to reference the contract governing the relationship with the contractor. Include the date of the agreement and be careful to differentiate it from any other contracts you have signed with the vendor.
Mention termination clause. The letter should also mention the contract's termination clause so it's clear to everyone that you have a right to terminate the relationship and are acting in accordance with the terms that were agreed upon at the contract's inception.
Required notice. Make sure the effective termination date complies with the time period specified in the termination clause. If the termination clause requires 30 days notice, make it 30 days - no more and no less.
Future possibilities. As a gesture of goodwill, you may want to give the contractor a glimmer of hope and mention that you will consider opportunities to work with him again in the future.
Recordkeeping. Maintain a copy of the termination letter in your records. You'll probably never need to reference it, but it's better to be safe than sorry.
Share this article
---
Additional Resources for Entrepreneurs