Coming Up With Business Ideas
Top Selling Flea Market Items
Written by Rayzelle Forrest Young for Gaebler Ventures
Highlights top selling items to sell in your flea market business. Explains how selling accessories to go along with these items will maximize your selling potential.
To get the most out of your flea market business, you of course want to sell what people will buy.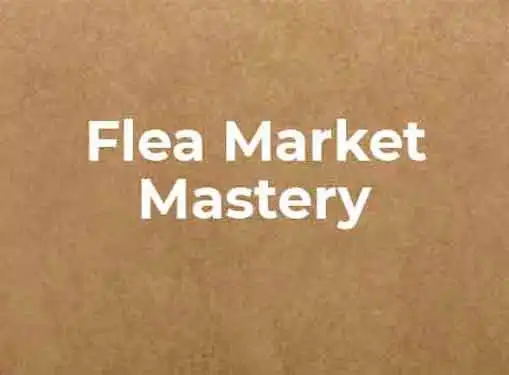 In addition, you will have more success if you sell what people will buy over and over. Items that need to be replaced regularly as well as those that people feel they have to have are top sellers at flea markets. You will maximize your selling potential when you sell accessories that go along with these top selling items.
Movies
Movies are timeless. A good movie from forty years ago will always be a good movie no matter what. Vendors that sell movies primarily sell DVD's but also usually have a selection of movies on VHS. This is because there are a lot of movies on VHS that people still enjoy and are willing to buy.
Sunglasses
Sunglasses are always being lost, so people are always buying replacements. A good idea is to offer a deal on buying two pair at a time. A lot of buyers will opt for this because they know they will probably lose one pair. Buying two at a time means they will have another pair to resort to if they lose the first one. Adding sunglass cases and strings to your booth will give your business additional selling power.
Shoes
Shoes are a top seller at flea markets for all ages but more so for children. Children generally grow out of their shoes regularly or either put a lot of wear and tear on them. This of course means that they constantly need new shoes. To maximize your income potential, sell shoestrings and shoe cleaning products at your flea market stand as well.
Children's clothing
Children's clothing follows the same concept as shoes. Since children are constantly growing, they always need to get more clothes that fit. Both old and new clothes sell well for children at flea markets.
New Items
New items sell twice as much as old items at flea markets. New items such as stereos and computers usually come with paperwork and warranties. This gives customers the feel of buying something new as opposed to buying old merchandise without guarantees and warranties.
Toys
Children will always want toys. There are many flea market vendors who sell only toys and make a decent income. In addition to being easy to sell, toys are also easy to restock when items are sold out.
When making your decision on what to sell in your flea market business, remember to think of things people will always want and need. In addition, sell accessories that go along with your top sellers when possible in order to maximize your income potential. If your merchandise combines these three features, you won't have any problem making good money with your flea market business.
Rayzelle is an entrepreneur and writer. Based on her experiences as an owner of her own dance studio, she will share her personal tips on being a successful entrepreneur.
Share this article
---
Additional Resources for Entrepreneurs