Legal Information for Entrepreneurs
Understanding Indemnification
Indemnification clauses are one of the more common legal clauses in business contracts. As an entrepreneur, you need to understand indemnification and how it works to make sure you never get burned.
If you own a small business, chances are you have already dealt with indemnification issues, even if you don't have the slightest idea what indemnification is all about.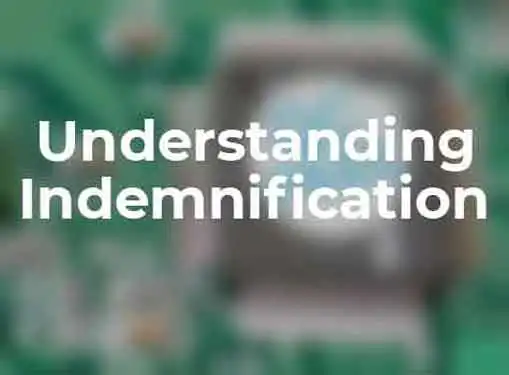 But the reality is that indemnification is serious business, so serious that you can't afford to go into it with your eyes closed.
Why? Because if you don't at least know the basics you run the risk of losing everything when a transaction goes south.
Indemnification is a contractual promise in which one party agrees to protect another party from financial loss.
In most cases, indemnification applies only to situations in which the loss is caused by negligence rather than by an intentional act of malice. Since small businesses require this kind of security for a wide variety of transactions and scenarios, indemnification may come into play in a variety of business-related situations.
Indemnification of Directors and Officers
Many corporations use indemnification clauses to protect the actions of their directors and officers. Although these clauses do not protect directors and officers from liability related to fraudulent or illegal activity (and rightly so), they do protect them from failures in their fiduciary responsibilities to the corporation.
This often means that the corporation accepts responsibility for the fiduciary shortcomings of the people who hold leadership positions in the organization.
Indemnification in the Sale of a Business
Another indemnification-related scenario occurs during the sale and purchase of a business. It is fairly common for sellers to provide a certain amount of indemnification for the purchaser, based on the condition of the business at the time of the sale.
Although the seller's level of indemnification is not unlimited (there is usually a cap), the seller may be responsible for financial losses that occur as a result of misrepresentations about the business at the time of the sale.
Pending litigation, worker claims, and other undisclosed obligations may very well trigger the indemnification clause to kick in, at which point the seller must make good on his obligation to the purchaser.
If this happens, you should be aware that some situations fall into a gray area and you will need the help of a legal advisor to find out who is really responsible.
Indemnification of Business Contracts
It is also not uncommon for business contracts to contain a clause indemnifying either the buyer or seller of the goods and services at stake.
The problem is that most lawyers will tell you that it is very risky to provide indemnification for a set of results that you cannot guarantee will happen. Even so, many clients and vendors still include indemnification clauses as part of their standard contracts.
Instead of simply agreeing with each and every indemnification clause that comes your way, it's worth the time and investment to run it by your legal advisor to make sure you are not agreeing to an unreasonable responsibility that could jeopardize your ability to do business in the future.
Share this article
---
Additional Resources for Entrepreneurs