Home Business Advice
Using Subcontractors to Grow a Home Business
Growing a home business? Consider hiring subcontractors to handle your extra work.
When you launched your home business, your primary concern was whether your business would fail.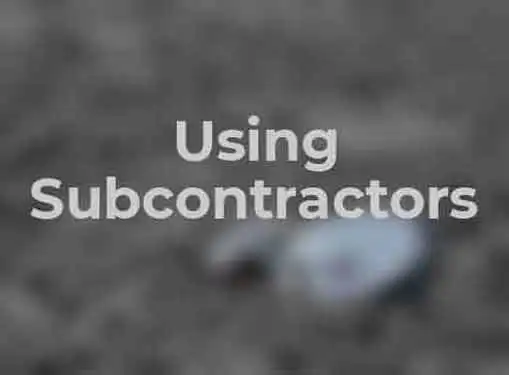 But now that you have managed to make your company a success, the big question is how you are going to handle all the work without relocating the business out of your house. The solution may easier than you think: Subcontractors.
Small businesses regularly rely on subcontractors to handle work overloads. However, home business owners often ignore the subcontractor option, and instead choose to rent space, hire employees, and increase overhead to grow the business. Although the transition to a traditional small business structure may be the right move in some cases, the subcontractor option is worth exploring because it often gives you the ability to grow the business without significantly increasing your overhead costs.
Here's how it works: As the business owner, you are responsible for running the business, attracting clients, developing a work plan, and overseeing its completion. But instead of doing the work itself, you hire subcontractors to do it for you, giving you the ability to handle more clients at once.
Before you start enlisting subcontractors, you will need to make some changes in the way you operate your business. To be effective, you have to keep your head in the game and implement some common-sense guidelines in your company.
Work with the Best Possible Subcontractors
Your subcontractors represent you and your business to your customers. Hiring low-priced contractors may add to your bottom line, but it may also result in poor workmanship and a diminished reputation in the marketplace. Likewise, when you are swamped with work, the temptation to hire a subcontractor from the yellow pages can be hard to resist. But if you are serious about maintaining quality, your only real option is to vet subcontractors in advance - preferably more than you need in case your workload increases unexpectedly.
Get It in Writing
Hiring a subcontractor without a contract is like trying to float a sailboat without a sail. It just doesn't work. Sooner or later (probably sooner), you will experience a situation in which a subcontractor fails to provide the services you agreed on in the timeframe you provided. A written contract can eliminate any confusion and act as an incentive for your subcontractors to get the job done in a timely manner.
Be Picky About Quality
The act of hiring a subcontractor is only the beginning of the process. Although you won't be doing the work yourself, you will still be responsible for making sure the work is completed according to your standard of quality. The worst thing you can do is to set a subcontractor loose on a project and then walk away from it. Maintain quality by performing regular site visits and insisting that the subcontractor fix any work you consider to be sub-quality.
Be Honest with Your Clients
It's not a sin to hire subcontractors to help meet your clients' needs. As long as you are upfront about the fact that you will use subcontractors to do the work, most clients won't object, especially if you go out of your way to reassure them that you will remain intimately involved in seeing the project through to its completion.
Share this article
---
Additional Resources for Entrepreneurs