Sales Leads
Ways to Get Sales Leads
Ever since the first caveman hung a shingle, sales teams have been looking for new ways to get sales leads. We'll tell you how you can start using some of the most effective sales lead generation strategies in your business.
The process of finding quality sales leads can be the most frustrating part of the selling process.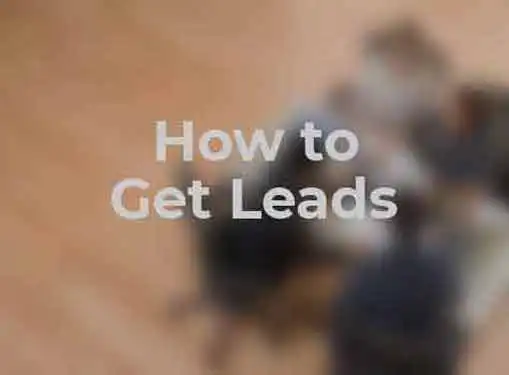 Unfortunately for many sales teams, it's also the part of the selling process that has the most dramatic impact on sales success. If your team is unable to identify the kinds of leads that translate into high conversion rates, hitting your sales benchmarks will become a long, uphill slog.
There is no shortage of sales lead strategies available to business owners who are willing to invest the time to research them. The problem is finding sales lead generation strategies that yield maximum results from a minimum amount of effort. The last thing your business needs is a sales lead generation system that requires significant labor inputs, but results in a large quantity of lukewarm or unqualified leads.
Some of the most effective sales lead generation methods have been around for years while others have been created by emerging technologies. If your sales team is at an impasse about how to get sales leads, here are a few ideas to help them get the ball rolling.
Target dream clients. A robust sales lead collection system should begin with identifying high value targets. If you're operating in a B2B environment, your sales force already knows who the high value clients are. Encourage your team to put those clients at the top of the list because landing just one of them can have the same effect as landing several smaller leads.
Coordinate with your marketing team. It's important to use your existing marketing initiatives as a resource for lead generation. Every marketing campaign should include a mechanism your sales team can use to create a list of leads that are ripe for qualification.
Use the company website. Your company website can be a good source for leads. But unless it attracts thousands of visitors per day, it won't suffice as a standalone lead generation resource. Still, make sure your site has a way for visitors to input their contact info and request more information.
Create referral incentives. Some of the most productive leads come from the personal referrals of existing customers. By giving your customers substantive referral incentives, you can significantly increase the flow of referrals into your company.
Leverage online resources. In addition to your website, there are a multitude of online resources for lead generation. Company blogs, social networking and email marketing campaigns are good starting points for your online efforts.
Share this article
---
Additional Resources for Entrepreneurs