Medical Practice Staffing Advice
Ways to Nurture Medical Office Staff
Things can get a little crazy in a medical practice so it's important to maintain peace, harmony and motivation in your staff. Here are a few ways you can nurture your medical practice employees and help them achieve peak performance levels.
The pace of life in a medical practice takes a toll on both the physicians and medical office staff.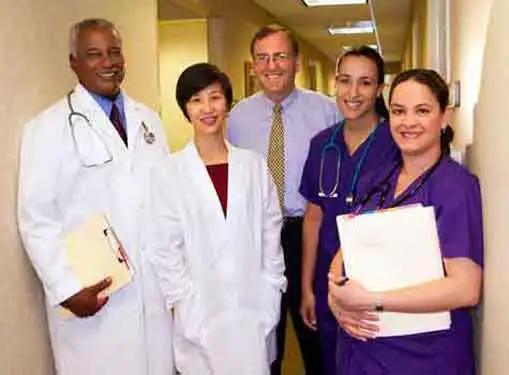 Too often, practice partners ignore the needs of their staff until it's too late and they begin to experience high rates of staff turnover. That's unfortunate because in many cases all the staff needed was a little nurturing to stay on track and on mission.
Whether you like it or not, you are not simply a physician -- you're a small business owner. And that means you're responsible for a certain amount of employee care. Although it's possible to go overboard in nurturing your staff, it's rare to find a physician who is focused more on their staff than they are on the endless tasks and routines of the workplace. If better employee care is on your to-do list, here are a few suggestions to get the ball rolling.
Staff development luncheons. Buying lunch for your employees is a nice gesture. But believe it or not, most medical office personnel are more appreciative of working lunches with speakers or discussions designed to improve their performance.
Discussion groups. Periodic discussion groups equip your staff to tackle the demands of the workplace. Discussion topics can vary, but office personnel are frequently interested in staying on top of the latest developments in medicine, technology and the healthcare industry itself.
Office retreats. Retreats can go either way based on the amount of planning and preparation you put into them. A well-organized retreat has the dual benefit of addressing strategic goals and building a sense of camaraderie among the people you rely on to make your medical practice a success.
Wellness initiatives. Some medical practices are so focused on the health of their patients that they neglect the health and well being of their employees. Initiatives, campaigns and contests that promote healthy lifestyles benefit your employees and result in a more harmonious work environment.
Conflict resolution processes. Unresolved conflicts don't go away. They just fester and eventually erupt in a full-blown office crisis. By communicating clear conflict resolution procedures, you can help your employees nip problems in the bud.
Personal development resources. Although it may not seem like it, your staff members have lives outside the office. Those lives are often filled with stress points that could be mitigated through personal development resources like retirement planning tools and family outings.
Share this article
---
Additional Resources for Entrepreneurs