How to Raise Money
Raising Venture Capital Money
Raising venture capital money involves a formulaic process. Once you understand our formula and apply it to your efforts to raise startup money, you'll find that raising startup money is easy.
After you raise money a few times, you learn the secrets of getting funding quickly.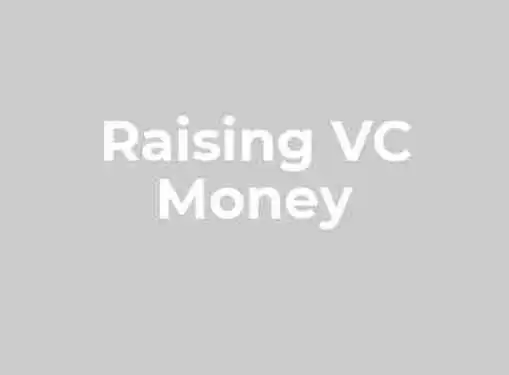 Assuming you have a decent idea, you just need to leverage the Celebrity Factor, the Greed Factor and the Lemming Factor by using a Sweetener.
Here's how it works. First, understand that we live in a world where people are infatuated with celebrities. We look to celebrities for guidance on everything we do, including what we should invest in. We have celebrities in entertainment and sports but we also have them in business. This is the Celebrity Factor.
Second, recognize that celebrities in general are all about self-interest and being the center of attention. It's hard work becoming famous. Accordingly, celebrities don't become famous for nothing. This is the Greed Factor.
The Lemming Factor simply recognizes that most inventors don't think too deeply about the investments they make. They look for somebody else to lead them. Once it's clear that everyone is going in a certain direction, lemming investors follow.
The key to raising a financing round therefore hinges on your giving investors the sense that everyone is rushing to invest in you. Smart money is headed your way and if they don't follow suit, they miss out.
How do you do this? Easy. You get a celebrity to lead your investment round. Then the others will follow.
How do you get the celebrity on board? Capitalize on the Greed Factor by giving them a Sweetener. A sweetener is an action that takes care of them more than anybody else gets taken care of. Celebrities think they deserve a better deal than everyone else, so you have to give it to them to get them on board. The reality is they are worth it, especially if once they sign on, other investors rush to join them.
A typical way to give a celebrity a sweetener is to give them a board seat and compensate them for being on the board by giving them additional equity. In the earliest states of a technology startup, you might have to give a celebrity something like 3% of your company to get them to invest and be on the board.
Let's say you are raising $5 million and giving away 30% of the company to raise it. For $500,000, investors get 3% of the company. However, when the celebrity investor puts his $500,000 in, he's also getting 3% for being on the board. The net result is that he gets 6% for his $500,000, twice as much as what the other investors get for their investment dollar.
It's a sweet deal for the celebrity, but it's also a sweet deal for you. Once you get the celebrity to commit to investing, you'll find it's easy to get the other investors to follow suit. You need to fully disclose the sweetener to the other investors, but it's very rare that somebody will make an issue of it.
In a world where not getting a round done can mean that your business never gets off the ground or is crushed by faster-moving competition, this is an important technique that can be very helpful to entrepreneurs.
Share this article
---
Additional Resources for Entrepreneurs