Raising Money
504 Loans
We need a small business loan! If that's on your mind, check out the SBA's 504 Loan Program. It provides growing businesses with long-term, fixed-rate financing for major fixed assets, such as land and buildings.
Small businesses often find themselves in the difficult position of needing significant amounts of cash for capital investment, but limited equity with which to secure adequate financing.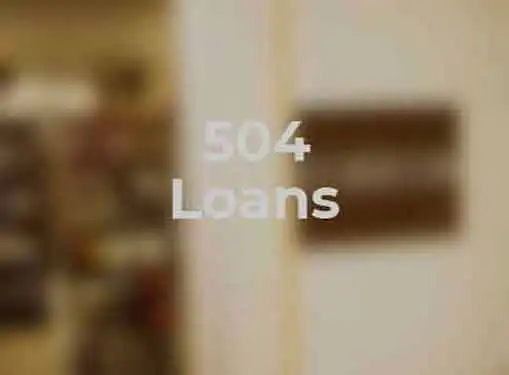 If you had the cash, you wouldn't need a loan, right? Fortunately, the SBA (Small Business Administration) has a program tailored for just such a scenario - the 504 Loan Program.
SBA 504 loans are a lending partnership between your bank, your small business, and the SBA designated CDC (Certified Development Company).
Under this lending program, small businesses that are unable to secure conventional loans can gain access to long-term, capital financing. Loan proceeds can be used for a wide range of capital projects such as land purchases, new construction, existing building purchases & renovation, the acquisition of machinery, and the expansion of existing facilities.
Key features of 504 financing include the following:
Qualifications
In order to qualify for a 504 loan, your business needs to meet three conditions established by the SBA. First, the business must be a for-profit venture averaging less than $2 million in annual profits and have less than $6 million net worth. Second, the loan must result in the creation or retention of jobs in line with a ratio of one job per $35,000 of loan proceeds. Third, properties purchased with the loan proceeds must be at least 50% owner occupied and new construction must be 67% owner occupied with plans to occupy 100% of the property within ten years.
Although these conditions may seem a little restrictive, they are designed to ensure that 504 loans are used for their intended purpose: To provide healthy small businesses with affordable, capital financing that inspires long-term growth.
Loan Size
Since the 504 program intentionally targets capital financing, the size of a 504 loan can be significant. The minimum project size that will be considered for a 504 loan is $120,000 and 504 loan amounts regularly total $1 million or more. Combined with owner investment and bank financing, a project involving a 504 loan can easily total several million dollars.
Terms & Conditions
A typical 504 lending scenario includes 50% project financing from a bank secured by a first lien position on the asset(s) financed. The participating CDC provides financing for 40% of the project cost, which is secured by a guarantee from the SBA and a second lien on assets. The owner is responsible for 10% equity in the project, 15-20% if it is a start-up business or it is a special use project.
The term of the bank portion of the loan can vary from bank to bank. However, the SBA portion of the loan is amortized over a 20-year term for real estate and a 10-year term for equipment. Additionally, the SBA portion is subject to a below market, fixed interest rate for the entire term, subject to rates at the time of closing.
Share this article
---
Additional Resources for Entrepreneurs