VoIP Phone Systems
Benefits of VoIP Business Phone Systems
VoIP offers its users a number of important benefits. But if you don't what those benefits are, your business can't take advantage of them. We'll tell you everything you need to know about the benefits of VoIP phone systems and how they can help your company.
VoIP gets a lot of good buzz in the business community.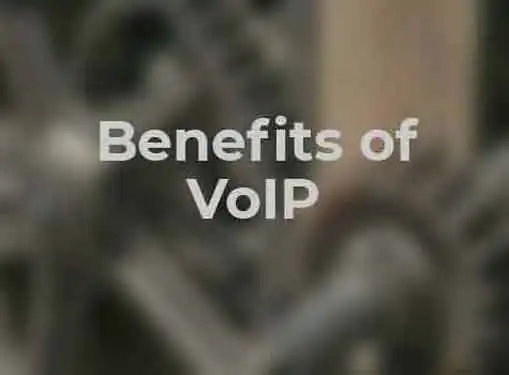 But cutting through the techno-speak can be a real challenge, especially if you're not familiar with commercial-grade telecommunication products. Instinctively, you know that the Internet is capable of delivering a more efficient voice communication package. The tough part is understanding the actual benefits it offers your business.
Right away you should know that VoIP business systems aren't a latchkey solution for every business environment. VoIP business technology is most effective in companies that have multiple sites, remote workers (e.g. work-from-home employees) or a large number of field reps. Sometimes VoIP can also benefit a single-site business, but only if the business is large enough to leverage its call center or software integration capabilities.
For companies who can benefit from it, VoIP offers a number of benefits – as well as a few drawbacks. Here's what you need to know:
Benefits of VoIP Business Phone Systems
Cost. VoIP business systems virtually eliminate the cost of long-distance and international calls within your organization. You will still need to make arrangements for a separate system to handle your external calls, but the cost of keeping geographically diverse personnel connected and in touch will be dramatically reduced by a VoIP business solution.
Connectivity. If your business has multiple sites or a large volume of remote workers, you'll especially appreciate VoIP's ability to handle voice communication as if it were a single, unified phone system. Extension-to-extension calling and system monitoring can have a centralizing effect on the most decentralized workplaces.
Sound clarity. Early VoIP business solutions suffered from poor audio quality and call interruptions. The growth of the Internet has substantially improved voice clarity to the point that it is now indistinguishable from traditional, landline calls.
Integration. Some of the most valuable VoIP business phone system benefits involve its ability to seamlessly integrate with other applications like CRM. The combination of telecommunication and Internet features has resulted in a highly-manageable system with an abundance of user options.
Drawbacks of VoIP Business Phone Systems
Bandwidth. VoIP will inevitably result in increased network and bandwidth requirements. If you're system isn't up to the task, be prepared to upgrade.
Outages. It sounds obvious, but another drawback of VoIP is that you'll lose phone service when your Internet service is down for maintenance or other reasons.
Share this article
---
Additional Resources for Entrepreneurs