Angel Investor
Business Investors
Business investors play an important role in launching and growing small businesses. But financial strength isn't the only quality entrepreneurs need to look for in investors. In fact, there are several other characteristics that are just as important as investors' capacity to fund growth.
The process of funding a startup or early stage business can be daunting, especially since the availability of capital hinges on economic conditions and factors that are beyond business owners' control.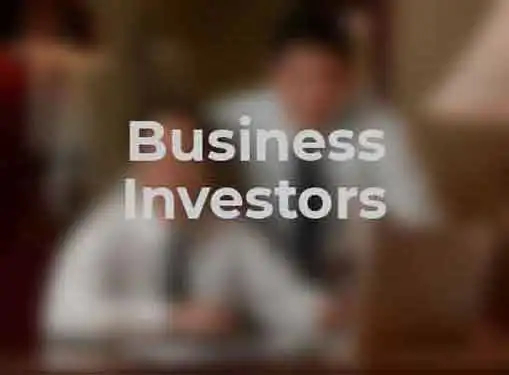 However, regardless of the economic climate, investors are always looking for companies that have a solid business strategy, a track record of profitability and strong growth prospects.
Business owners, on the hand, tend to be less discriminating about the investors who fund their operations. In most cases, the suitability of a potential investor boils down to the size of their bank account and the amount of money they are willing to inject into the business.
But as a business owner, should financial capacity be the sole determining factor in investor selection? If not, what are some of the investor traits that distinguish the best small business investors from the rest of the pack?
Business Investor Characteristics
Successful small business investment is more than a transaction. Ideally, good business investors should bring both financial and non-financial value to the company. It's also important for business owners to recognize that an investment relationship marks the beginning of a relationship -- for better or worse, you will have a long-term connection with your investors.
Angel investor advantages can deliver an important boost to a startup or a growing small business. With that in mind, there are several characteristics that are worth considering in the investor selection process.
Patience. The best investors are patient and have a long-term outlook toward investment relationships. Investors who are in it for a short-term payoff often harbor an agenda that clashes with the business owner's growth schedule. So before you agree to partner with a business investor, it's important to make sure he has the patience to wait for his capital to deliver lasting results.
Strategy. The strength of the individual's investment strategy can be a good indication of his tolerance for risk and his willingness to commit to your company for the long haul. By itself, a readiness to invest in your business is insufficient for determining the potential for the relationship. Instead, ask prospective investors to describe their investment strategy and discuss how your company might fit into their investment portfolio.
Industry Expertise. Smart entrepreneurs want top-tier investors to play a consultative role in their companies. In some cases, angel investors require a seat on the company's board; in others, investors simply serve as informal advisors. But regardless of the official role they play in the company, investors need to bring a certain amount of industry expertise to the table. By vetting prospective investors' industry backgrounds, you can increase the value of the advice they offer your company and ensure that they won't be deterred by normal industry cycles.
Investment Experience. Whether they admit it or not, all investors make mistakes. The difference is that experienced angel investors have already learned from the miscalculations they made in other companies, while inexperienced investors may be making their mistakes in your business. Across the board, experienced investors outperform inexperienced investors in every category and are more capable of generating real results for your business.
Networking & Connections. One of the most important non-financial benefits business investors can offer your business is the ability to expand your business network. Nearly all angel investors boast an exceptionally broad network of relationship (both inside and outside of the industry), and are willing to leverage those relationships on behalf of the companies in which they invest. Be sure to discuss prospective investors' ability to tap into a broad network base before you commit to an investment relationship.
Share this article
---
Additional Resources for Entrepreneurs