How to Write a Business Plan
Business Plan Length
When it comes to business plan writing, size does matter. Some say a short business plan is the way to go, while others argue for longer business plans.
How long should a business plan be?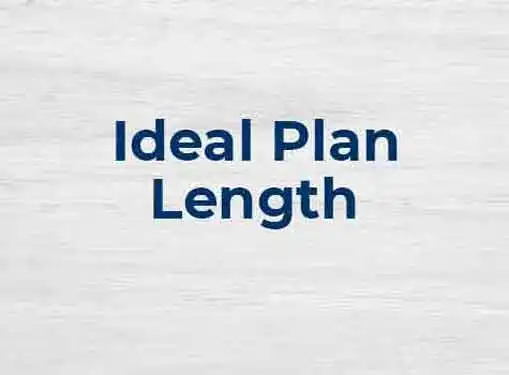 Writing a business plan can be an intimidating task, primarily because the common perception is that a good business plan has to make War and Peace read like a short story.
Books on business plans often include a long sample business plan table of contents that leads most entrepreneurs to punt, skipping the business plan writing process altogether.
Not Your Father's Business Plan
The new philosophy on business plans that seems to be in vogue these days is to keep them short and sweet.
Nobody reads an over-long business plan anyway, right? They just skim the executive summary. The rest of the business plan is now viewed as perfunctory for the most part, so why include it at all?
"It seems, back in the day, the longer your business plan was, the more promising it was going to be," said Dany Levy, founder of DailyCandy.com, in a recent New York Times interview. "And now it's, the shorter your business plan is, the more succinct and to the point it is, the better. You want people to get why your business is going to work pretty quickly."
Levy's comments and the move to shorter business plans make sense for a number of reasons:
Time Is Money - Venture capitalists, bankers and other business plan readers are time-constrained individuals. They don't have the time to read a 150-page business plan cover to cover.
The Nintendo Generation - Whether they are time-constrained or not, the demographic trend is towards instant gratification. Today's business plan readers won't have the patience to read through a long business plan.
Either It's Good or It Isn't - If the idea is good, it shouldn't require overselling. A short description should be enough to articulate what the business plan is and how the business intends on being successful.
Wasted Time - The more time you spend writing a business plan, the less time you are spending on actually starting or growing a business. Business plan writing is an exercise in procrastination, say some.
No Indicator of Future Success - Just as a high GMAT score doesn't mean that you will become a great manager or businessperson, a well-written, thorough business plan doesn't necessarily mean that you will succed. In fact, many businesses succeed without ever writing a business plan. If that's the case, advocates for short business plans, say, why bother writing that long business plan?
Getting Started on a Business Plan Is What's Important -Finally, there's a line of thinking that says that the perception of an intimidating business plan length stops many business owners and startup entrepreneurs from ever getting started on a business plan. For that reason alone, moving to shorter business plans will encourage more people to start on a business plan, and that exercise alone, is, in the opinion of those who love business plans, enough to help businesses to improve.
Not So Fast, Say Some Business Plan Experts
Those who advocate longer business plans are not willing to completely give up the fight. The counterargument to the short business plan is that it's taking a shortcut that circumvents the real value of writing a business plan.
Every section of a long business plan requires critical thinking on challenges that may arise and that leads to decisions on how the business might address those challenges. If you only write a short business plan, you'll never go through that thought process and you may set off on a path that is ill-advised at best and fatal (just to the business - you'll be fine) in the worst case.
Our Take on Business Plan Length
So who's right and who's wrong?
The answer is that it's best to take a hybrid approach.
The key with business plan writing is to get started on the process. It's like exercising. If you are loathe to get out and exercise because you know you should really jog 3 miles every other day and go to the gym twice a week, and that's too much to fathom, then start simply. Just go for a walk every so often. Go for a jog every so often. Take baby steps and you'll soon get to the point where you can engage in a more rigorous exercise program.
The same is true of business planning. Start simply. Business planning is hard by the yard, but it's a cinch by the inch.
Start by writing a short business plan that covers the most essential elements: What are you going to do? Why you think there's demand for what you want to do? How are you going to go to market? How are you going to differentiate from competitive alternatives? How will you make money? You should be able to write this up in a single afternoon.
Just going through this exercise may get you more realistic about the business. Maybe you'll come to the conclusion that your business idea is a loser and you should punt. If that's the case, you'll be glad you figured that out after writing a three-page business plan, rather than a 200-page business plan.
So, once you've got your very short business plan (maybe it's just a Powerpoint deck), you can start shopping it around...for feedback, for venture money, or whatever. Through that process, you'll get input that will help you refine the concept.
Push ahead with starting or growing the business, but, when time permits, work on that longer business plan. Doing so will give you a disciplined approach to business planning. As you work on the longer business plan, update the short business plan as needed, but keep it short.
At the end of the day, you'll have two business plans: a short one that is great for sharing with investors and others, and a long one that is more operational and more detailed in nature. The combination of the two -- a short business plan and a long business plan -- is unstoppable.
If you're thinking "seems like too much work to me," then it's possible that you underestimate what it takes to start and grow a business. On the other hand, you may have such an incredible business concept or may be so talented that you can get away without writing a thorough business plan.
Going back to our exercise analogy, we all know people who look great who rarely exercise. The same is true of business planning. There are tons of people who get rich without writing a business plan. Unfortunately, not all of us will be so lucky.
Share this article
---
Additional Resources for Entrepreneurs