Small Business HR Advice
Career Fairs
Written by Stefan Martinovic for Gaebler Ventures
Exhibiting at career fairs can be a great recruiting tool. You get the opportunity to promote your organization to tons of prospective hires in a highly efficient manner.
Career fairs can be a very important recruiting tool to help you grow your business and bring in quality candidates to fill open positions.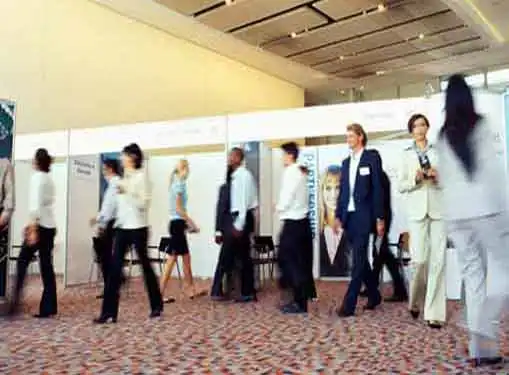 Career fairs comes in a variety of forms, from open invitation career fairs to campus-specific fairs.
If you are looking to grow your business and take on new employees, maintaining a presence at these events can help you get a window into what potential employees are available and what they are looking for in an employer.
An open-invitation career fair is usually organized by a local chamber of commerce or better business bureau and is open not only to any employer but also to any employment candidate without specific background requirements.
Because anyone can attend an open-invitation career fair, in addition to recent graduates, this type of fair can be useful in finding and screening more experienced candidates who are looking to make a career change.
One of the benefits common to all career fairs is that the promotion of the fair is handled by the organizing body, allowing you to concentrate less on your presentation and screening process rather than get caught up in the process of increasing publicity for your presence at the fair.
Open-invitation fairs are frequently held on weekends and at off-peak hours when individuals who are currently working a typical 9 to 5 schedule are available to come to the fair. These fairs are usually publicized in local business journals as well as newspapers and online publications.
For small businesses looking to bring in fresh graduates with youthful enthusiasm and vigor, an on-campus career fair is a viable option to consider.
Many colleges and trade schools nationwide pride themselves on making employers accessible to those students who are about to graduate and who are on the career search. With the huge waves of talented students entering the workplace each year, if you are looking to grow your business by bringing employees in for the long haul, campus recruiting is essential.
The nature of higher education lends itself to inspiring recent graduates to take on full-time positions immediately following the completion of coursework. As a result, employers from all industries have the veritable pick of the litter when it comes to finding the candidate who has the right pedigree for success in their organization.
In addition to making contacts within the institution's career services office, the career fair is the most important tool that an employer can have in the on-campus recruiting game.
It provides a set time and location for career-minded students to gather and meet recruiters. It also provides the employers a place to conduct initial screening, exchange first impressions, and even conduct interviews.
No matter what industry your company may be in, the opportunities that career fairs provide to employers looking to grow their business from a personnel standpoint are tremendous. By designating itself a forum for connecting hiring companies with job-seeking individuals, career fairs have a very high success rate for matching people with the positions that are right for them.
As a result, they can prove to be a significant asset for the recruiting needs of your small business.
Stefan Martinovic has an extensive body of work across the financial services, manufacturing, and retail industries. He is currently pursuing an MBA in Management and Entrepreneurship at The College of William & Mary.
Share this article
---
Additional Resources for Entrepreneurs