Legal Information for Entrepreneurs
Confidentiality Agreement
Confidentiality agreements can go a long way toward protecting proprietary information and trade secrets. But non-disclosure agreements aren't foolproof. So here are our tips for creating a confidentiality agreement that has real legal teeth.
Confidentiality agreements protect information that is not generally available to other businesses, the media or the marketplace.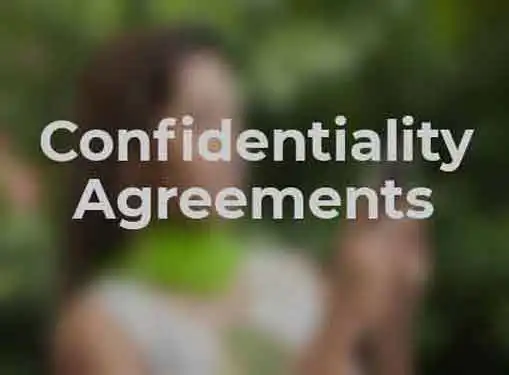 But the effectiveness of confidentiality (or non-disclosure) agreements is directly related to the details that are outlined in the document.
In a worse case scenario, a haphazardly constructed confidentiality agreement can limit your activities while giving the other party free reign over your company's sensitive information.
A confidentiality agreement can be either mutual or unilateral. Mutual agreements facilitate the free exchange of protected information between two parties and are most common in joint ventures or corporate mergers. Unilateral agreements, on the other hand, prohibit a single party from disclosing information that has been provided to them. These kinds of non-disclosure agreements are common in employer/employee relations.
In practice, confidentiality agreements range from a simple confidentiality clause in an employment contract to a complicated, multi-page document with a host of provisions that protect the interests of both parties. It's even possible to create an agreement that ensures confidentiality unless the other party acquires the information by some other means. Nonetheless, most small businesses (in consultation with legal counsel) will rely on agreements that address a handful of issues and concerns.
Parties. The beginning of a confidentiality agreement should define the parties involved. Parties can include individuals, companies, organizations or a combination of the three. If a party isn't described in the agreement, they will automatically be considered exempt from non-disclosure requirements.
Description of confidential information. The crux of any confidentiality or non-disclosure document is found in the description of information that is covered under the agreement. This information can vary widely, but can include unpublished patent applications, business processes, financial information, verbal representations, customer lists, vendor lists, business strategies and more.
Exclusions. The exclusions section details the information that is not considered confidential under the terms of the agreement. Prior knowledge, public information and subpoenaed information are typically exempt, but there may be other types of information that are appropriate for inclusion.
Term. Non-disclosure agreements aren't usually enforced for eternity. After a specified time period, the information is no longer considered confidential and the agreement is no longer considered binding. Both terms need to be specified in the non-disclosure document.
Obligations. The obligations section articulates approved uses for the confidential information described elsewhere in the document. If the individual or organization exceeds approved use, they have breached the agreement and are subject to appropriate penalties.
Share this article
---
Additional Resources for Entrepreneurs