Small Business Insurance
Content Liability Insurance
Believe it or not, the words on your website and in your brochures can be a liability. Fortunately, there's insurance that addresses that risk.
Words have power.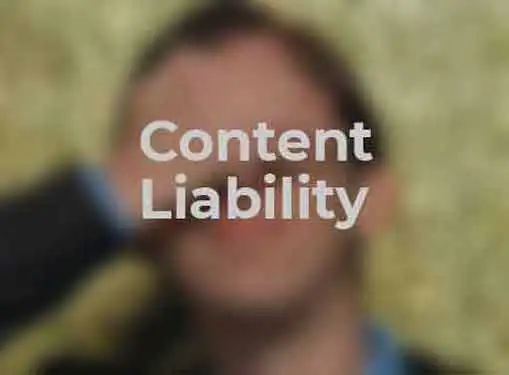 Unfortunately, it is possible for the power of the words that appear in your companies ads, brochures, and even your website to be used against you in court. Short of ceasing to publish information completely, your best protection is to pursue insurance options that cover both the online and offline content your company relies on.
Content lawsuits can arise from any number of scenarios. If your business publishes medical or financial advice, the liability issues are obvious. However, the most innocuous claims that appear in your content may still lead to legal turmoil down the road. With litigation at an all-time high, you can't afford to take anything for granted.
Do I really need content insurance?
Any business that publishes printed material intended for distribution or operates a web site, chat room, or discussion board can benefit from content insurance. Although you will need to determine the type and amount of coverage that is appropriate for you, keep in mind that it's better to be safe than sorry. Suppose your business publishes a quarterly catalog with a brief description of your products. The slightest misprint or wrongly-phrased passage suddenly becomes an open invitation for a lawsuit. You could roll the dice and hope that your customers will understand, but at the end of the day you'll sleep a lot better knowing that your business is insulated from financial ruin.
What are my insurance options?
Insurance is like anything else - you get what you pay for. Yet even the most basic content liability package should cover your online and offline content. You can't simply assume that a content liability policy automatically covers both because it usually won't. Instead, you will need to work closely with your insurer and your attorney to create a policy that provides adequate coverage for all of your content. If your company primarily utilizes online content, your policy's risk profile should take that into account.
A good content liability policy should offer coverage for infringement claims, libel, personal injury, invasion of privacy, and any other claims your attorney deems relevant to your business. Since even frivolous lawsuits can quickly accumulate a mountain of legal fees, it's important to make sure your policy also covers the legal costs associated with content liability claims.
Can disclaimers mitigate my legal liability?
It's a common misconception that disclaimers and terms of use can completely insulate a business from liability. You should absolutely post disclaimers and terms of use - as visibly and precisely as possible. But since disclaimers are often open to interpretation, your disclaimer may not stand up in court. Likewise, the court may very well find your disclaimer faulty based solely on where it appears on your website or printed document. Conventional wisdom dictates that because it is nearly impossible to create a lawsuit-proof disclaimer, content liability insurance is the only real guarantee of financial survival in a content-related legal situation.
Share this article
---
Additional Resources for Entrepreneurs