Small Business Marketing
Flea Market Marketing
Written by Rayzelle Forrest Young for Gaebler Ventures
Article highlights how you can build a successful flea market business and discusses marketing techniques that will build customer loyalty and help to make you more money.
If you're looking to make cash on the spot then you may consider starting a flea market business.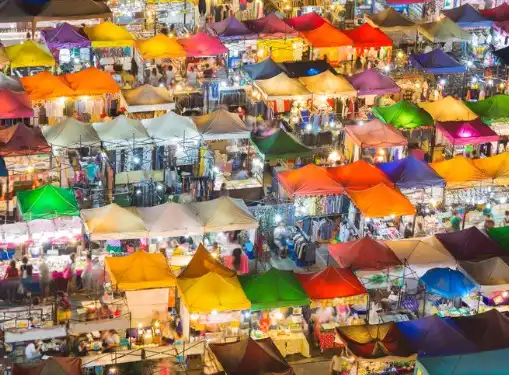 Flea markets all throughout the country are flocked with millions of customers every weekend. These are customers that have come here to do one thing: buy. People who are just looking don't generally frequent flea markets since they know that the following weekend the item may be gone. Sellers need to use customers' desire to make a purchase to their advantage. The right preparation and marketing techniques can make plenty of money at flea markets.
Lots of Merchandise
Customers are at flea markets to buy merchandise, so you need to have lots of it. The more you have, the more money you will make. Give customers enough to choose from so they can get whatever they need from you. When at all possible, make sure you have every space at your booth filled with products. You should spend the bulk of your budget on items that are best sellers. If needed, fill any empty spaces with inexpensive trinkets.
Quality
Despite the fact that it's a flea market and people are looking for a bargain, flea market goers still want quality. Slightly higher priced quality products will sell better than cheap low quality products every time. This is why buyers at a flea market will purchase the name brand products that are a little more expensive instead of inexpensive poor quality products. Smart consumers tend to equate prices that are too low with low quality products. The key is to price your brand name prices lower than the retailers.
Develop Customer Loyalty
Buyers want to know that they can count on you so be a steady vendor that they can constantly come to. Be consistent in renting the same booth every weekend. This will help to build customer loyalty. Knowing that you will be in the same place every weekend, selling the same fairly priced high quality items will brand your booth as a serious flea market business.
Your weekend flea market business can be just as thriving as a day to day business if properly marketed. Opting for this form of entrepreneurship is a great low risk way to make money. By stocking your booth with lots of quality merchandise and being consistent in your space rental you can achieve great success.
Rayzelle is an entrepreneur and writer. Based on her experiences as an owner of her own dance studio, she will share her personal tips on being a successful entrepreneur.
Share this article
---
Additional Resources for Entrepreneurs