Forklifts
Forklift Vendors
Service is the name of the game when it comes to choosing a forklift vendor. Since your company can't afford to risk extended service downtimes, you need a qualified vendor who is responsive to your service requests -- and here's how to find them.
A dependable forklift vendor is well worth the investment, even if their product is slightly more expensive than the competition.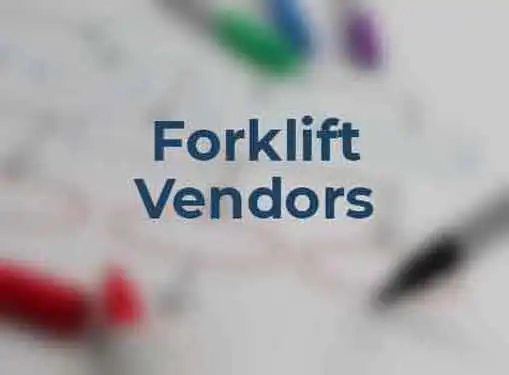 When your forklift needs service or repair, the last thing you need is a vendor who doesn't have the expertise or staff resources to get you up and running as quickly as possible.
Whether you like it or not, you will probably have a service relationship with your forklift dealer for the foreseeable future. Since it's recommended that you stick with a single forklift brand in order to streamline service, a poor vendor choice could translate into years of breakdowns for all of your company's lift trucks.
Many forklift manufacturers give dealers exclusive territory rights for their brand so you may not have many dealer options. If you are located in an exclusive territory and the dealer doesn't seem capable of servicing the product after the sale, move on to another brand of forklift rather than settling for a substandard dealer.
Before choosing a forklift vendor, it's smart to ask a few questions.
How much industry experience does the dealer have? - Industry experience is an important factor in vendor selection. Without it, it can be difficult for your vendor to accurately match your equipment purchase to your workplace requirements.
What are the average breakdown and response times? - On the whole, forklifts tend to be reliable pieces of equipment, especially when they are properly maintained. Even so, it's important to know how quickly your vendor will service your forklift when it goes out of service.
How many technicians does the dealer employ? - You need to know not only the number of technicians your dealer employees, but also whether or not they are certified to work on your lift brand and model.
Does the dealer maintain a comprehensive inventory of parts? - There's nothing more frustrating than waiting for your dealer to receive the proper parts to repair your forklift. Make sure your dealer keeps an adequate inventory of replacement parts on hand to avoid unnecessary delays in service.
Does the dealer offer on-site maintenance? - On-site service for basic repairs and maintenance is standard in the industry. If your vendor requires you to bring your lift trucks to his shop, you will experience additional service delays.
Share this article
---
Additional Resources for Entrepreneurs