Search Engine Marketing
New Microsoft Keyword Research Tool
The Microsoft AdCenter keyword research tool, rebranded as Microsoft Advertising Intelligence, is available as a free add-in for Excel.
Editor's Note: This SEM/SEO tool was rebranded in 2009 to be called Microsoft Advertising Intelligence. We have updated the download link for the product but left the article largely intact since the information is still accurate and useful.
Awesome new news! Microsoft now offers an add-in for Excel that makes it easier than ever to analyze keywords for online advertising campaigns. This new Microsoft SEM and SEO tool ups the ante in the search engine wars and is a welcome new product for search engine marketers who are struggling with keyword selection and online ad bidding.
To get access to the Excel keyword analysis tool, you need to sign up with Microsoft Adcenter by going to the link below:
Microsoft Advertising Intelligence Download
Once you have registered, you get access to the Microsoft adCenter Excel add-in.
Features of the Microsoft Keyword Research Tool
So why do we think it's so amazing?
In essence, it takes many of the search engine optimization (SEO) and search engine marketing (SEM) tasks that have been very tedious to do in the past and makes them trivial, all within the friendly confines of an Excel spreadsheet.
Once the add-in has been added, you get access to these tools:
Keyword Wizard. Enter a keyword (e.g. credit cards) and see all the related keyword categories and the appropriate categorization for your phrase.
Keyword Extraction. Enter a URL and see all the keywords that the search engines think are important.
Keyword Suggestion. Enter a phrase and you can see many other suggested phrases. You of course get to see how many search requests are made for any given keyphrase, and much more!
That's just three of the ten toolbar commands you get. See toolbar screenshot below. Still, if this were all the product did, it would still be amazing.

You literally just type a phrase into an Excel cell, hit the icon and immediately get the results in your spreadsheet. (Thankfully, you are no longer limited in Excel to 65,000+ rows like you used to be in prior versions - so you can really do a ton of keyphrase analysis with this new tool.)
Think about it. Prior to this spreadsheet, how would you do this? You'd have to sign up for a paid service like WordTracker. After using the pay-for-use online keyword research, you'd then have to export your results into Excel. With the Microsoft keyword research tool add-in for Excel, you get the data immediately and you get it right where it's most useful to you.
But, as they say, that's not all, my friends!
This tool lets you do just about anything you'd want to do in preparation for a pay-per-click (PPC) ad campaign.
Want to see the bids you would need to make to be #1 at the top of the sponsored ads? Just click on the Monetization icon.
Want to understand what the demographic data is for your keyphrase? Easy. You can see how many women versus men search on the phrase "credit card" or "hybrid car" with a quick click of the mouse.
For a big spender, you can quickly understand how much you need to spend to be #1. If you are more frugal, you can find what long-tail keyphrases are generating a ton of traffic but that have a low bid cost to get to be #1.
Here's a screenshot of one of the output screens for Microsoft keyword analysis:
For search marketers, this is pure gold.and the fact that it's free gold is simply astounding.
Microsoft Keyword Research Tool API Access
Now, for those of you who are developers, here's some really good news.
The Excel keyword research tool is just a demonstration application of a free API that Microsoft will give talented developers.at no charge.
Here's a screen grab of what you get when you get access to the Microsoft API: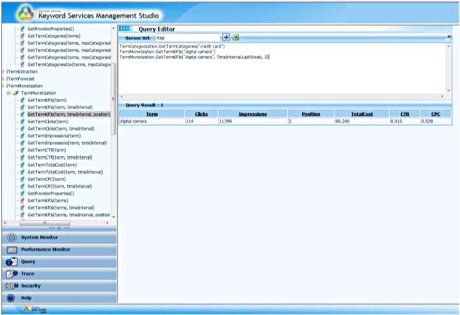 You are limited to 20,000 keyword requests per day. But that should be plenty. If you enter a keyword phrase and get back 250 related keyword phrases, that only counts as a single request.
Imagine what you can do with access to this API. From your server or from a desk-based application, you can gain access to a massive database of online advertising data and you get the programming tools to let you do whatever you want with that data.
Spammers will no doubt want to use the tool to generate web-pages on the fly that cater to the keyphrases for which advertisers are bidding the most. A black hat spammer could easily use this data to generate many massive sites, with dedicated SEO-optimized pages for phrases. The only thing the Microsoft API won't do is write an article for the pages.
Hopefully, Microsoft will prevent spammers from using this tool in this fashion. What we expect is that many very useful and benevolent applications will be developed using the API.
For our site, for example, we will use the API to create a free tool for small business owners. If you own a motorcycle dealership and want to advertise online, we envision our tool - assuming we actually build it - allowing you to quickly and easily get everything you need to create a very effective ad campaign. No need to hire an expensive consultant or figure it all out on your own.
A large advertising agency could do something similar for their Fortune 500 clients.
The Trend Is Clear
The release of the Microsoft Keyword Research Tools plays into a trend we've seen time and time again.
Something that is very hard to do suddenly gets very easy. Remember in the 90s how people would pay $200,000 for a simple website, simply because it seemed so hard to build a site. Over time, tools came out that made it easy to do - and more and more people learned that is wasn't so hard in the first place.
As such, the Microsoft Keyword Research tool may make many SEO consultants and SEM consultants a little nervous. When clients realize that a free tool can do the work that they are currently paying consulting dollars for, the SEM consulting revenue stream may dry up.
More likely, this will simply up the ante for the SEO/SEM consulting value-add. Yes, it will make it easier for do-it-yourself (DIY) online advertisers. But, there will always be a need for advanced expertise in online advertising.
Hats off to Microsoft for making this tool available. It leapfrogs Google Webmaster Tools and other competitive options by allowing marketers to tap into a vast amount of data, including ad bids, that were previously not available.
All for now ...we're off to start playing with that API!
Share this article
---
Additional Resources for Entrepreneurs