Starting Your Business
From Customer to Entrepreneur
Written by Jay Shapiro for Gaebler Ventures
Using your 'customer's eye' can stand you in good stead when you're setting up a business. Doing so will help you better understand your client's needs and keep in touch with things at grass roots level.
Have you ever picked up an item in a shop, looked at the price and put it back down again quick?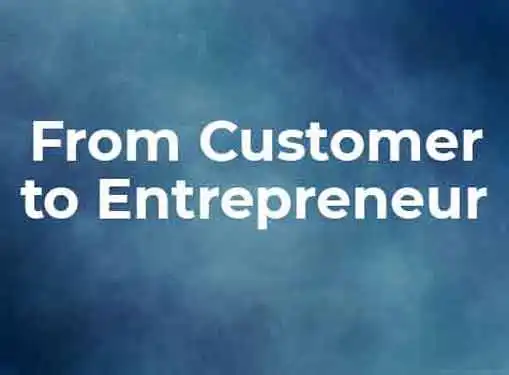 Or shut the door behind a service provider with a huge sigh of relief, on both occasions thinking: "I could do better than that for the money." Yes? Then you already have an insight into why some people make the leap from buyer to seller, customer to service provider. So why do they?
"I could do better than that for the money… "
Whether we are creative, practical, logical or scientific leanings, there's not one of us that haven't had this thought at some time or other in the context of contemplating payment for a product or service. My big moment was standing in a shop, deliberating a hand-knitted 'must-have' cardigan with a price tag of £49, in a colour that would not have been my first choice.
Instead I purchased yarn and knitted my own, then one for a friend, and so on. Being able to critically observe with a customer's eye is an invaluable skill, especially when what is on offer just does not measure up, a recognised business flaw: "too many people make a mediocre product and fail" (Frank Perdue of Perdue Farms). The frustration of mediocre products is often enough to set an entrepreneur to give up the search and go into business for themselves to create their own ideal.
"They're going about that all wrong, they'd be more successful if they… "
Some people have a real talent for problem solving –this in itself is a marketable skill! Along with the critical shoppers' eyes above, seeing where a product, service or marketing could be improved and actually having the skill and opportunity to act on the improvements needed to make a success of a venture is a reason many entrepreneurs decide to step up. There's nothing like someone else's missed opportunity, to motivate and inspire the more quick witted!
"My talents aren't being used fully where I am… "
We all want to be able to give the best of our skills, achievements, experience and personalities: extrinsic recognition of any or all of these adds to our sense of value and well-being. Failure to achieve any recognition on a daily basis makes work an ever more soul-destroying experience and for some individuals, not being valued for delivering these on a daily basis is enough reason to reconsider your options.
For others, perhaps caught in the wrong job, being unable to explore or use their skills to the fullest, becomes a frustration. Where time to develop skills is being limited by lack of paid opportunity, then expanding opportunities by developing these through making own time into paid time is a good reason to switch to an entrepreneurial role that will bring out the best of your talents.
So the next time you find yourself having one of the thoughts above, don't dismiss it –listen to your inner entrepreneur and see if it's an option worth exploring further. You never know!
Jay Shapiro is a freelance writer based in the UK. Jay has a particular interest in the emotive aspects of the entrepreneur's character. "Alongside the nuts and bolts of business, the character of the person is often the ingredient responsible for success."
Share this article
---
Additional Resources for Entrepreneurs