Starting Your Business
Starting A Business
Starting a business isn't as easy as it sounds. There's a lot of information out there about how to launch a small business, but we'll tell you what you need to do before you hang a shingle and open your door for business.
If you're starting a business, you're probably experiencing a wide range of emotions.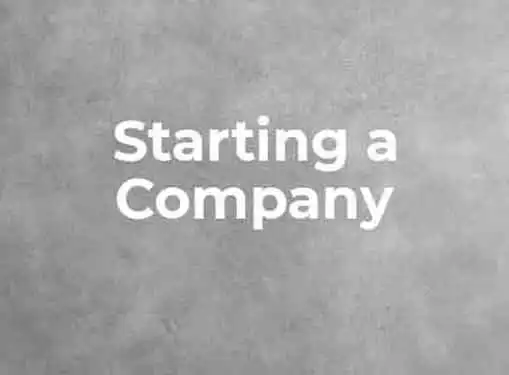 Excitement, hopefulness, fear, anxiety - it's all part of starting a business from scratch. More than anything else, you're determined to beat the statistics and create a company that thrives during the critical first year and beyond.
Drive, commitment and hard work are essential traits of prosperous small business owners. But the desire to succeed isn't enough to stop your startup from becoming just another statistic. You'll also need to be savvy about the strategies and techniques that are required to launch a business that has the legs to last in a competitive business environment.
Viable small businesses are built on a platform of sound planning, fiscal responsibility and proactive market positioning. Although the statistics are daunting, most startups have the potential to become profitable, thriving businesses. But it all begins with knowing what to do before you open for business.
Identify a market need. The first step in starting a business is to identify a market need. If there is no actual demand for your product in the marketplace, your startup is doomed from the get-go. However, demand for your product can also be negatively impacted by a high saturation of similar products already available in your target market.
Write a business plan. Once you have established a legitimate need in the marketplace, the next step is to create a business plan. Don't rush the process of business plan creation. Instead, use it as an opportunity to consider the factors that will determine the success or failure of your business during the first few years.
Seek qualified assistance. There is no shame in soliciting the assistance of experienced entrepreneurs during the startup phase. In fact, smart entrepreneurs rely heavily on the expertise of mentors, coaches, consultants and other outsiders throughout the life of their company.
Consider capitalization requirements. Under-capitalization is the fast track to failure for a business startup. A large percentage of small business failures opened their doors before they had accumulated enough resources to fund critical business activities and capital requirements.
Test the market. Before you plunge headfirst into the marketplace, consider testing the market with focus groups and small-scale product offerings. It's much easier to tweak your business model before you have fully committed your resources to a specific approach.
Set achievable goals. Be realistic about your business objectives and set achievable short-term goals rather than setting a single, five-year goal to conquer the world. Consistent, incremental progress encourages both your and your team.
Share this article
---
Additional Resources for Entrepreneurs