Remote Mac Access
GoToMyPC for Mac - Finally!
I've been waiting for GoToMyPC for Macs for a while. Finally, there's a solution that offers remote access to Macs.
At long last, there's a software solution that allows you to remotely access a Mac at the office from home.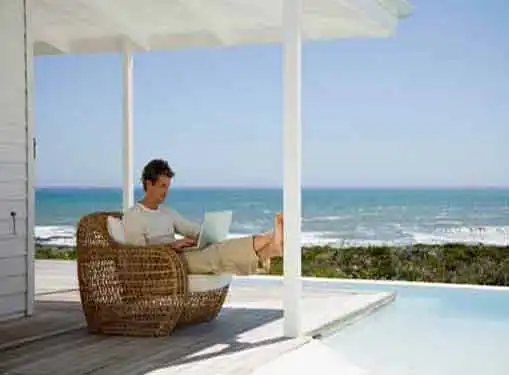 I really expected remote Mac access to come from GoToMyPC a couple of years ago.
There were rumors ages ago about a GoToMyPC for Mac version.
Once GoToMyPC was acquired by Citrix, I thought they'd certainly put the pedal to the metal on the Mac version of GoToMyPC.
It tool them a while to roll out remote access for Macs, but it's finally here:
Here's the link to learn more, get a free trial and check it out:
Presumably, this is a rock solid solution for remote Mac access. After all, Citrix GoToMyPC is an excellent product.
This new version of GoToMyPC for Apple computers enables access to any computer from a remote PC, Mac, or even from a mobile phone, such as the iPhone. You have to have Internet access. That's it. If you have a Web connection, you can access all your programs, files, emails and network resources on your Mac remotely.
For us, we are mostly a PC office but we also have Macs for designers.
I like GoToMyPC to access our PCs from home or while I am on the road (although my friends tell me there are better, cheaper alternatives.)
For years, GoToMyPC has been great for accessing the PCs, but we've never had a good solution for the Macs.
With this GoToMyPC for Mac software, we can connect to any PC or Mac from a remote PC, Mac, or mobile phone.
If you don't have it for your office, you should know that remote PC access and remote Apple access is great, for many reasons.
The main advantages are screen sharing and remote support. You can invite a guest to view or control your desktop for anytime collaboration or demonstrations. You can invite a guest to remotely assist you with troubleshooting or tech support. You also can share files, presentations, and training sessions over the web.
Products like WebEx PCNow (they also have a Mac version by the way), Citrix GoToMyPC, Citrix GoToMeeting and the like make it easy to telecommute and they allow a ton of business to get done in a much more efficient manner.
Need remote Mac access and/or remote PC access? Check it out for yourself!
Share this article
---
Additional Resources for Entrepreneurs