Small Business Marketing
Guerilla Marketing
Written by Richard San Juan for Gaebler Ventures
Guerilla Marketing is a type of marketing that was described by Jay Levinson. It is a marketing discipline that is mostly geared towards small business and entrepreneurs, because they only utilize a low budget. Guerilla marketing is known to be aggressive and sometimes unconventional in its practices.
Guerilla marketing is sometimes mistakenly used to describe aggressive marketing and selling techniques, like the tactics that are often ascribed to a used car salesman.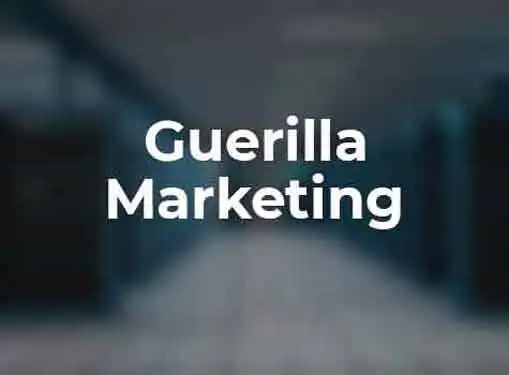 While it is aggressive, guerrilla marketing still incorporates some of the traditional aspects of marketing such as marketing towards a specific target segment.
In fact, the term guerilla marketing really refers to conducting marketing and promotional activities on a small budget.
Traditional marketing is what large marketing agencies or marketing departments in large corporations use. They perform their marketing activities on a large budget. Having a large budget, the large marketing agencies and corporations have time on their side.
However, for small businesses and entrepreneurs, they don't have the luxury of too much time--they need revenue quickly to pay off the startup debt. Thus, with a low budget and little time, small business owners and entrepreneurs have to use sometimes unorthodox but still effective methods of generating cash flow and hopefully bring profits.
The unconventional marketing and promotional tactics are designed to provide maximum impact in transforming previously cold prospects into loyal customers.
Guerilla marketing works effectively because it promotes brand recognition and customer loyalty by utilizing fine-tuned tactics.
In guerilla marketing there are several tools that experienced marketers employ to achieve their objectives without having to endure high costs. For example, printing flyers and posting it in various areas is one method of guerilla marketing that can be effective.
For startups and small businesses, an initial cost-effective strategy could be offering free samples of products or services in an attempt to attract more customers. If the customers like the free samples, they will buy more of your products or services.
In addition, those customers become, in a sense, extra marketers by spreading the good quality of your products or services through word-of-mouth. Some grocery stores utilize this technique when they provide free food samples.
Public speaking is another concept that guerilla marketing favors. Unfortunately, it is known that public speaking is the number one fear of most people. If an individual is an aspiring entrepreneur, he or she must put in a significant amount of effort to overcome that fear.
If you can master public speaking, your small business has the possibility to gain much publicity, both for the company and the product line. Holding seminars at no cost is an additional method of public speaking that can help a company's product or service get exposure.
Utilizing some of these tactics of guerilla marketing, an entrepreneur or small business owner will have a good chance of expanding their organization.
Richard San Juan is currently pursuing an MBA degree with an emphasis in Finance from DePaul University in Chicago. He is particularly interested in writing about business news and strategies.
Share this article
---
Additional Resources for Entrepreneurs