Entrepreneur Idea Guide
How to Start a Hair Care & Treatment Business
These tips are ideal for those of you who plan on opening a hair care salon. Read this before you open up shop.
Wondering how to start a hair care salon? We take you step-by-step from start to success.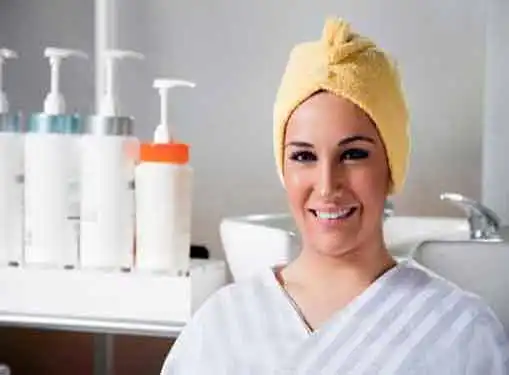 The Hair Care Industry
Hair care is big business because Americans really do care about their hair.
Did you know that hair care products have the highest sale volume of all non-food items in the United States? Both men and women are very style-conscious, and good looking hair is very valuable in our culture, helping with everything from winning presidential elections to getting the best in business deals to attracting a mate.
Entrepreneurs have made a fortune assisting with the cause by doling out cuts, shampoos, treatments, conditioning, coloring, mousse, bleachings, perms and more.
If you want to open a salon hair care business, it's important to stay abreast of trends in the hair care industry, but, even more important, it's really all about keeping your customers happy and getting repeat business and referrals. After all, they will need hair cuts every month, so you want that sure stream of revenues.
Creating Business Plans for a Hair Care & Treatment Business
Does your hair care salon have a business plan? If not, your company is lacking a critical business tool. If it's sound, a business plan can help your startup secure financing, attract investors and execute a strategy for growth.
Although many entrepreneurs write their own business plans, others outsource business plan creation to a professional business plan writer.
The right business plan writer can give your hair care salon a competitive edge over other startups in your industry. Even so, we caution new business owners against removing themselves entirely from the business plan creation process.
Startup entrepreneurs are well advised to materially participate in the writing process, even after they have engaged a proven professional.
Take a Look at Competitors
Well in advance of opening a hair care salon in your town, it's worthwhile to find out how many competitors you have. Use the link below to find competitors nearby. Just enter your city, state and zip code to get a list of hair care and treatment salons in your community.
Is the local market large enough to support another hair care salon? If not, you had better be sure that you are doing things much better than the competition.
Talk to People Who Are Already in the Business
After you've evaluated your local competitors, the next step is to have a conversation with someone who is in the business. It's very unlikely that the local competition will talk to you. What's in it for them?
Fortunately, somebody who runs a hair care salon on the other side of the country will be much more likely to talk with you, as long as they don't view you as a competitive threat. Indeed, many experienced entrepreneurs enjoy offering advice to startup entrepreneurs. In my experience, you may have to call ten business owners in order to find one who is willing to share his wisdom with you.
How would you find an owner of a hair care salon in a different locale who can assist you?
Here's one way to do it. Just use our link below, find somebody and call them.
Is It Easier to Buy an Existing Hair Care & Treatment Business?
Competition is tight these days and entrepreneurs can't afford to make many mistakes. So it's critical to get it right when deciding whether to start a business from scratch or buy an existing hair care salon.
Time and time again, we see entrepreneurs struggle to launch a new hair care salon when they could have bought a first-rate hair care salon. From a financial perspective, you'll receive more income sooner in a business purchase than you will in a startup.
Entrepreneurs who are committed to a highly unique value proposition may need to pursue a startup approach. But whenever possible, we recommend carefully surveying the business-for-sale marketplace before committing to a startup approach.
Consider Buying a Franchise
The odds of doing well in business are much greater if you decide to franchise and benefit from the prior work of others and their lessons learned.
Before you consider starting a hair care salon, it's worthwhile to check out whether purchasing a franchise might help you on your entrepreneurial journey.
The link below gives you access to our franchise directory so you can see if there's a franchise opportunity for you. You might even find something that points you in a completely different direction.
Related Articles on Starting a Company
These additional resources regarding getting started as an entrepreneur may be of interest to you.
Share this article
---
Additional Resources for Entrepreneurs