How Do I Start a Business
How to Start a Paintball Business
Here's some helpful information that is written for entrepreneurial folks who hope to start a paintball business. Read these tips before you open up shop.
Wondering how to start a paintball business? We take you step-by-step from start to success.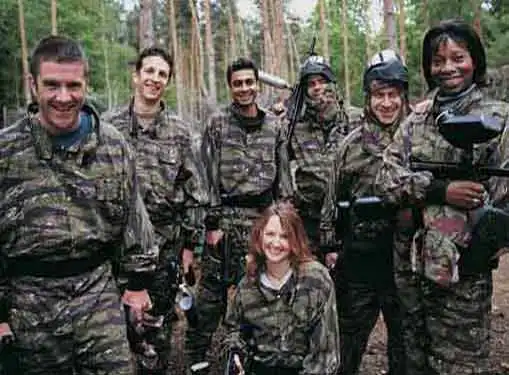 Paintball Industry Overview
Paintball has quickly gained recognition as a legitimate sport, with high school, college and even professional leagues attesting to its popularity with a segment of the U.S. population. According to industry estimates, there are as many as 5 million active paintball participants who spend $450 million each year on paintball supplies and equipment.
Entrepreneurs interested in launching a paintball business need to understand that a paintball operation is first and foremost a business endeavor. If your plan is to make a profit by spending the majority of your time on a paintball course, you are in for a rude awakening.
Paintball is an inherently expensive sport. Enthusiasts can easily spend more than $75 in fees and supplies for a day on the paintball range. Consequently, the sport primarily appeals to a more affluent demographic than other sports, making it necessary for startup paintball business owners to effectively evaluate and target the right market for their operation.
Finding Space for a New Paintball Business
The economics of the paintball business make space requirements even more challenging than they are for many other types of small business startups. The bottom line is that you're either going to need abundant outdoor acreage or a sizeable indoor arena.
But if you locate your business in a rural area where land is cheap, you probably won't be able to generate enough traffic; locate the business in a more densely populated area and the cost of space will skyrocket. The key is to find space that achieves the right balance of affordability and customer demand.
Paintball Safety Concerns
In theory, paintball is designed to be a safe leisure activity. But in practice, vibrant paintball businesses are accidents waiting to happen. Although paintballs are non-toxic, they often leave bruises or welts. More alarmingly, the lack of proper equipment, eye gear and arena rules will inevitably lead to serious injuries including blindness.
The enforcement of rules and protocols is essential. But a good liability insurance policy is your best protection against civil litigation and lawsuits. Under no circumstances should you open your doors until you are confident your business is fully insured and protected.
Tips for Generating a Top Quality Paintball Company Business Plan
A good business plan is the foundation of your entrepreneurial journey. Although you'll have a certain amount of liberty in the form and content of your paintball company's business plan, you'll also want to make sure to cover the required material. Even small omissions can have radical implications for your company.
Business plan software eliminates the guesswork, insulating your paintball business from the possibility of critical omissions. The best business plan solutions can be tailored by industry, incorporating highly relevant metrics into your paintball company's business plan.
Our list of business plan software packages offers a comprehensive guide to the best solutions on the market.
Don't Overlook Competitors
Before you open a paintball business within your community, it's a smart move to determine how you will fit in the competitive landscape. Try our link below to generate a list of competitors near you. After clicking on the link, type in your city, state and zip code to get a list of paintball businesses near you.
Is the established competition doing a good job? It's important to understand their strengths and weaknesses and think through how you'll stake up against those established businesses.
Learn from Others Who Are Already In This Space
If you are seriously contemplating launching a paintball business, it's a wise move to talk to somebody who is already in the business. Local competitors are not going to give you the time of day, mind you. The last thing they want to do is help you to be a better competitor.
But, a person who owns a paintball business in a location that is not competitive to you may be more than happy to give you a few tips, as long as they don't view you as a competitive threat. In that case, the business owner may be more than happy to discuss the industry with you. Our estimate is that you may have to contact many business owners to find one who is willing to share his wisdom with you.
Want the scoop on finding a paintball business founder on the other side of the country to talk to?
No problem! Just use the link below and try a random city/state or zipcode. Then start dialing for advice until you are successful.
Reasons to Pursue a Paintball Business Acquisition
Many would-be paintball business owners are perplexed by those who encourage them to buy a business rather than starting one from scratch. But what's so great about a paintball business acquisition?
Financing and funding concerns ought to play a central role in your strategy. Commercial lenders are usually more inclined to fund acquisitions than startups.
Although there are a lot of factors to consider, the decision to buy a business to get acquisition capital almost always pays off.
Don't Rule Out Franchising
The odds of growing your business immediately improve when you choose to franchise and benefit from the prior work of others and their lessons learned.
As part of your process in starting a paintball business, you should determine whether there are good franchise opportunities available that might be worth investigating.
The link below gives you access to our franchise directory so you can see if there's a franchise opportunity for you. You might even find something that points you in a completely different direction.
Related Articles on Starting a Company
These additional resources regarding getting started as an entrepreneur may be of interest to you.
Buying vs. Starting a Business
Coming Up With Good Business Ideas
Share this article
---
Additional Resources for Entrepreneurs