Starting a Business Articles
How to Start a Trampoline Center
If you are considering opening a trampoline center, step one is being sure to avoid the mistakes that other entrepreneurs learned the hard way.
Thinking about opening a trampoline center? We tell you what you need to know to get started.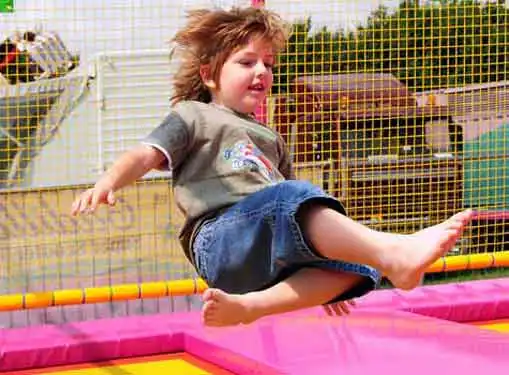 Trampoline Center Dynamics
Trampolining has experienced an upsurge in popularity in recent years, undoubtedly due in part to the approval of the trampolining as an Olympic sport in 2000. In an attempt to move beyond the limitations (and insurance liabilities) of backyard trampolines, modern consumers have demonstrated a willingness to engage in pay-for-play activities at trampoline centers and arenas.
Modern trampoline arenas feature a combination of fun activities, events and even trampoline-based dodgeball leagues. Since fallow trampolines represent opportunity costs, trampoline center startups must rapidly execute a plan to maximize the amount of time their facilities are used by paying customers.
How to Increase Revenue in a Startup Trampoline Arena
The hard truth about a startup trampoline arena is that the majority of your expenses will be fixed -- you'll pay the same amount for your facility lease, equipment loan payment, salaries, utilities and other expenses whether your trampolines are being used or not.
In order to cover costs, you'll need to increase revenue by inviting fitness enthusiasts to participate in a spectrum of activities including fitness classes, birthday parties, dodgeball leagues and open jump times.
Consider maximizing revenues through customer segmentation, i.e. targeting different demographics at different times of day. For example, you could offer a fitness class for retirees during the day, an afterschool club for kids, an evening fitness class for adults and a night-time league for dodgeball enthusiasts.
With average trampoline time running in the neighborhood of $10 per hour, it's not hard to see how strategic scheduling can directly impact your startup's bottom line.
Tips for Mitigating Risk in a Trampoline Center Startup
Despite its health benefits, trampolining is an inherently risky physical activity -- people routinely get hurt on trampolines. To protect your business as well as your personal assets, you will need to have a serious conversation with your insurance provider before you open the doors on your trampoline arena startup. A robust liability insurance policy is a must for any entrepreneur entering the trampoline arena business.
To further insulate yourself from personal liability, you may want to consider structuring your trampoline center startup as a Limited Liability Corporation (LLC). An LLC isn't a panacea, but it can go a long way toward protecting assets like your home and personal savings during litigation.
Characteristics of a Good Trampoline Center Business Plan
Looking for a one-size-fits-all business plan? Good luck. . . because it doesn't exist. However, the most effective business plans do address specific sound business plan elements:
Mission Statement – Your description of your trampoline center's reason for existing.
Goals & Objectives – Goals are broad targets; objectives are the tactics you'll use to reach your goals.
Financial, Marketing & Action Plans – More detailed descriptions of how you will carry out your mission and achieve your trampoline center's goals.
Investigate Competitors
Prior to opening a trampoline center in your town, it's worthwhile to see what the competition looks like. Use the link below to find competitors near you. Just enter your city, state and zip code to get a list of trampoline centers in your community.
How tough is the competition in the market you are considering? If the competition is too tough, you may need to think about starting the business in a different area or even start a completely different business instead.
Studying the Market
If you want to open a trampoline center be sure to talk to somebody who is already in the business. Local competitors are not going to give you the time of day, mind you. What's in it for them?
On the other hand, an individual who has a trampoline center in a different city will be much more likely to talk with you, given that you don't compete with them in their area. In fact, they are often very willing to share startup advice with you. Our estimate is that you may have to contact many business owners to find one who is willing to share his wisdom with you.
What's the best way to find somebody who runs a trampoline center who is willing to talk to you but doesn't live nearby?
It's not that hard. Just use the handy link below and enter in a random city/state or zipcode.
Top Three Reasons to Buy an Established Trampoline Center
It's almost always preferable to buy a trampoline center than to pursue a trampoline center startup.
Due diligence and other business buying requirements are essential. But there are several reasons why buying a trampoline center may still be your best bet.
Initial Revenue. If you're careful in your research, the trampoline center you buy will have a track record of profitability – a big plus since it may take months or even years for a startup to turn a profit.
Operational Efficiency. A good trampoline center should already function like a well-oiled machine.
Capital Acquisition. In general, it's easier to finance an existing business than it is to fund a startup. While a startup only exists on paper (initially), established businesses have the benefit of historical earnings statements and tangible assets.
Don't Rule Out Franchising
The chances of doing well with your venture are substantially improved when you choose to franchise and leverage their successful brand and track record.
Before you consider starting a trampoline center, you would be wise to assess whether there are good franchise opportunities available that might make your life much easier.
The link below gives you access to our franchise directory so you can see if there's a franchise opportunity for you. You might even find something that points you in a completely different direction.
More Advice for Startups
These additional resources regarding starting a business may be of interest to you.
Coming Up With Good Business Ideas


Share this article
---
Additional Resources for Entrepreneurs