How to Open a Business
How to Start an Irrigation Sprinkler Designers Business
Opening an irrigation sprinkler designers business is a rewarding experience but it's important to plan out the business in detail before you start. This article contains tips and advice to give you a jump-start on planning for your business.
Thinking about opening an irrigation sprinkler designers business? We tell you what you need to know to get started.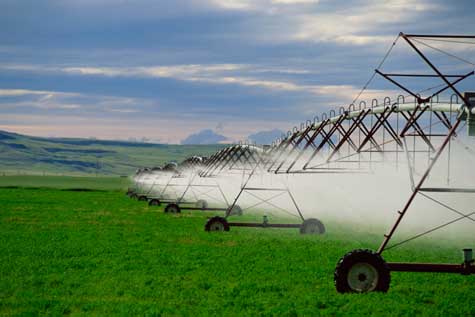 State of the Irrigation Design Industry
There is no escaping the fact that irrigation is front and center on the minds of many Americans. Of the world's 689 million acres of irrigated land, more than 117 million acres (17%) are located in the U.S., making irrigation sprinkler design services an in-demand commodity.
Although the agricultural sector continues to be a major player in irrigation products and services, the need for high quality irrigation has migrated beyond the cornfield to include golf courses, residential lawns and numerous commercial applications.
As an irrigation sprinkler design startup, your new business will be expected to understand state-of-the-art irrigation techniques as well as the sustainability and water conservation issues that are hot topics throughout the industry. Membership in trade organizations like the Irrigation Association is mandatory for irrigation entrepreneurs who are committed to becoming true industry professionals.
Essential Service Offerings for Irrigation Sprinkler Design Startups
Customer and market research are foundational tasks for would-be irrigation design business owners. If done properly, a thorough analysis of market forces will affect everything from the location of your business to pricing. More often than not, startup irrigation sprinkler design businesses find that to compete effectively, they need to offer their customers a handful of essential services.
Creating a Business Plan for an Irrigation Sprinkler Designers Business
One of the worst mistakes you can make as a small business owner is to not create a business plan.
The key benefit of writing a business plan is that it establishes both a framework and a roadmap for your business. If you don't have a business plan, your leadership will be handicapped, choosing short-term opportunities at the expense of long-term benefits.
Start by defining your business mission. The process of writing a mission statement doesn't have to be complicated. With a carefully crafted mission statement in place, you can begin to build on it with goals, budget estimates, marketing plans and other elements that are typically found in startup business plans.
Don't Overlook the Competition
Prior to opening an irrigation sprinkler designers business within your community, it's a good idea to find out how strong the competition is. Try our link below to generate a list of competitors in your city. Complete the form by entering your city, state and zip code to get a list of irrigation sprinkler designers businesses that are close by.
How tough is the competition in the market you are considering? If the competition is too tough, you may need to think about starting the business in a different area or even start a completely different business instead.
Studying the Market
Once you've finished assessing the competion, be sure to talk to somebody who is already in the business. It's very unlikely that the local competition will talk to you. Why would they want to educate a future competitor?
But, a person who owns an irrigation sprinkler designers business on the other side of the country will be much more likely to talk with you, provided that you won't be directly competing with them. In that case, the business owner may be more than happy to discuss the industry with you. In my experience, you may have to call ten business owners in order to find one who is willing to share his wisdom with you.
Where can you find an entrepreneur who is running an irrigation sprinkler designers business outside of your area who is willing to talk?
We can help. Follow the link below, try a few city/state combos or zipcodes, and then start calling!
Advantages of an Irrigation Sprinkler Designers Business Purchase
On a percentage basis, more entrepreneurs intend to enter irrigation sprinkler designers business ownership through a startup than through a business purchase. However, many new entrepreneurs aren't experienced for the rigors of a startup operation.
There are a lot of factors that need to be considered in buying vs. starting a business. By buying a profitable irrigation sprinkler designers business, you'll shorten the amount of time it takes to achieve a return on your investment because you'll have the advantage of a proven operation and an existing customer base.
Is Franchising the Right Option?
Recognize that your chances of avoiding failure in business are higher when you choose to franchise and benefit from the prior work of others and their lessons learned.
As part of your process in starting an irrigation sprinkler designers business, you would be wise to check out whether there are good franchise opportunities available that might alleviate your startup process.
The link below gives you access to our franchise directory so you can see if there's a franchise opportunity for you. You might even find something that points you in a completely different direction.
Related Articles on Starting a Company
These additional resources regarding getting started as an entrepreneur may be of interest to you.
Consideration Before Buying a Franchise
Coming Up With Good Business Ideas


Have Friends Who Might Like This Article?

Share this on Twitter
Let them know on LinkedIn
Ready to Learn More? We Think You Might Like These Articles:
---
Additional Resources for Entrepreneurs