Industrial Markers
Industrial Marker Manufacturers
When it comes to buying industrial markers, cheap off-brand manufacturers may not be your best option. To be safe, you'll want to start with the leading industrial marker manufacturers on the market.
Buying industrial markers is more complicated than picking a pack of Uni-balls off the shelf at the local office supply store.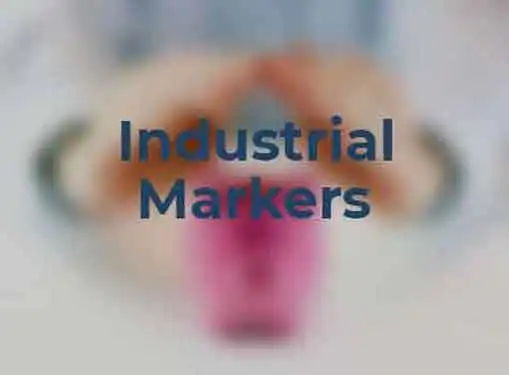 The best industrial marker manufacturers understand the needs of their customers. Unlike traditional writing instruments, industrial markers are designed to mark a variety of application surfaces. Manufacturing environments aren't known to be the most sterile environments, so these markers need to be capable of writing on multiple surfaces in conditions that can include moisture, oil, dirt, or other hazards.
Believe it or not, safety is a real concern for industrial marker buyers. When used in unventilated areas, chemicals in certain types of industrial markers present a health hazard for your employees. Exposure to marker fumes can cause headaches, dizziness, vomiting, and other symptoms that can put your workers' health in danger.
Another issue to consider is price. The per unit cost of industrial markers is substantially higher than typical office writing tools. When you're dropping $5 or more per marker, you need to make sure your money is being spent wisely. With that in mind, here are some of the best industrial marker manufacturers on the market.
Markal. Markal offers a full line of industrial-quality marking products, even though the company is known for its industrial paint markers. Their line-up features professional permanent and temporary marking products including solid paint markers, liquid paint markers, felt-tip markers, metal markers and temperature indicators.
Dykem. Dykem manufactures Dalo marking intruments, a successful line of products that is familiar to most commercial and industrial consumers. In addition to paint markers, their line includes specialty markers for high temperature and high purity applications.
Sharpie. Sharpie is a recognized brand name in the business workplace - the industry standard for light office marking applications. But they also offer a range of industrial marking products that have the same Sharpie features you already know and love.
Sakura. Sakura markets a complete line of industrial marker products and has a reputation for meeting specialized requirements for commercial applications that include ship building, welding, HVAC, highway construction, aerospace, plumbing, automotive assembly, shipping and electronics.
Share this article
---
Additional Resources for Entrepreneurs