Media Tours
Media Tour Mistakes
Think your media tour is a slam dunk? Your company may have a great story to tell, but there's no shortage of ways you can undermine your own message and severely damage your media tour before your story has a chance to be told.
A media tour has the potential to create untold amounts of free publicity for your business.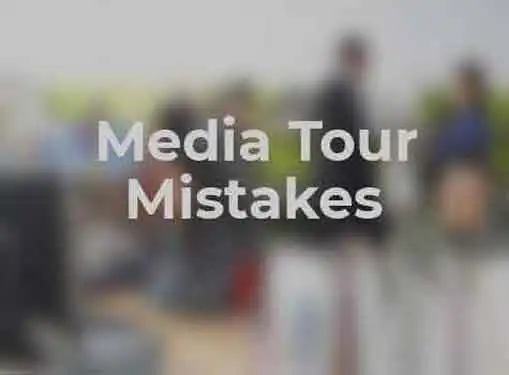 But as more than a few business leaders have discovered, it also has the potential to go horribly wrong, wasting valuable PR opportunities and leaving reporters with bad impressions about your company.
Although it's not impossible to execute a flawless media tour, it's harder than you think. You can't afford to make any missteps - especially these media tour mistakes that are commonly made by inexperienced business leaders and their PR advisors:
Scheduling failures. A media tour is about connecting with as many targeted media contacts as you can. The process of scheduling meetings with journalists should begin early with confirmations happening about a week before the tour begins. If you fail to schedule enough meetings or if you forget to confirm meetings, you won't get an adequate return on the time and resources you invest in the trip.
No messaging. Too often, entrepreneurs are under the mistaken impression that they can just show up and talk off the cuff. That's a huge mistake. Until you have a crystal clear and newsworthy story for the media, you're not ready for a media tour.
Bad messaging. The only thing worse than not having any message for your media tour is having the wrong message. Saying nothing is forgivable. But saying the wrong thing to a reporter will continue to haunt your company's PR efforts for years. Thoroughly vet your tour's messaging with other company leaders, and make sure it focuses on telling a story - not promoting a product.
Showing up late. Whatever else happens, make sure you are on time for all of your scheduled meetings. These days, journalists don't have a minute to waste. If you disrespect their time, they will be less inclined to go the extra mile for your story concept.
Too much, too soon. If the subject of your media tour is a major announcement, don't let the cat of the bag too soon. Your goal is to schedule face-to-face meetings because personal contact lays the groundwork for a long-term relationship with important media contacts. If you email the details of your announcement or post them on your website prior to your meeting, journalists have no reason to meet you personally and your major media tour will become a major media bust.
Share this article
---
Additional Resources for Entrepreneurs