Small Business Marketing News
Small Business Saturday Preparation Tips
Written by Tim Morral
Published: 11/13/2015
November 28 is Small Business Saturday. Is your business ready?
Sure, Black Friday is great for large retail chains and department stores, and Cyber Monday is a boon for online retailers.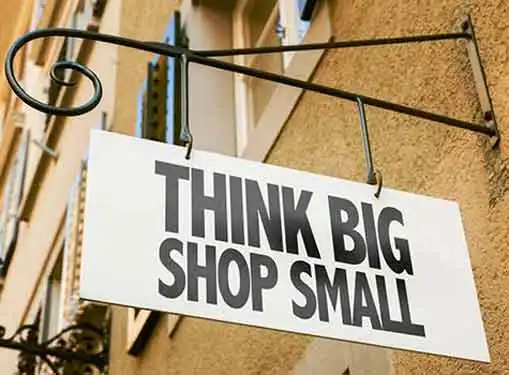 But let's not forget about Small Business Saturday, one of the busiest shopping days of the year for local small businesses.
What Is Small Business Saturday?
American Express came up with the idea for Small Business Saturday and launched a major marketing campaign around it in 2010.
If you haven't heard about this big day for local businesses, it's always on the Saturday after Thanksgiving in the U.S., and it's been steadily gaining momentum since 2010. In December 2014, Forbes reported that more than two-thirds of the U.S. population was aware of Small Business Saturday and 88 million U.S consumers intentionally spent over $14.3 billion with independent businesses on Small Business Saturday 2014.
But Small Business Saturday is not just for retail shops and gift buying. After they've finished shopping, the hope is that consumers will eat at local restaurants on Small Business Saturday, giving a further boost to the local economy. Towards that end, the SBA and the National Restaurant Association have launched a #DineSmall campaign this year to promote eating at local restaurants on "Small Business Saturday Night."
As the event continues to gain traction with consumers, it's no surprise that small local businesses are gearing up for Small Business Saturday 2015, and a big part of that is getting their promotional campaigns in order.
Are you ready? If not, we've got some Small Business Saturday tips for you.
Tips for Getting the Most Out of Small Business Saturday 2015
Perry Evans, founder of the small business app, Perch, has these recommendations for boosting your organization's results on Small Business Saturday:
Leverage resources from American Express. American Express provides tons of resources to help your business prepare for Small Business Saturday, including promotional resources like email templates, logos, signage and even social post ideas. They also have a map that can help your business appear on local consumers' radar.
Promote picture sharing. Increasingly, consumers are posting photos of Small Business Saturday shopping experiences on social media. Make it easy for them by creating photo-ready opportunities for selfies and social sharing.
Attract a crowd. Give consumers an added incentive to visit your store. Hire entertainment, offer creative holiday refreshments or find some other way to make your business the place to be for holiday shopping crowds.
Encourage social reviews. Social reviews should be a part of your Small Business Saturday strategy. Encourage shoppers to share their experience with your business on social sites like Yelp, Google and Facebook.
Offer incentives for social promotion. Create incentives for social sharing by offering discounts or freebies to customers who promote the "shop local" message on Twitter, Instagram and other social media sites.
Start promoting the event now. It's critical to start promoting your Small Business Saturday plans now. Emails, social posts, in-store ads, Facebook ads -- use every marketing tool at your disposal to inform shoppers about special offers, store hours, special events and more.
Develop nurture marketing lists. You can extend the benefits of this year's event by capturing customer emails and encouraging visitors (in-store and Web-based) to follow your business on social media. Consider printing materials that include your social info for in-store visitors to take with them.
Tapping Into Local Social Activity in Your Neighborhood
Evans' advice comes from a lot of deep thinking at Perch about how small businesses can best use social media marketing to fuel business growth.
Perch is an interesting app. It's worth trying if you're eager to understand which social media tactics are most effective for making your business top of mind with local consumers.
You can monitor local social, deal and review posts at a glance or get daily notifications. In addition to monitoring your own business, you can also monitor peers and competitors, giving you actionable competitive intelligence about other businesses in your area. Without social monitoring, social media optimization is very difficult.
Perhaps most importantly, social media monitoring tools like Perch stimulate creative thinking about your marketing. For example, when you see local activities or news trending, you can wrap promotions around hot social media topics.
By paying attention to social media activity and by preparing well for Small Business Saturday, you'll be well positioned to end this year on a strong note, setting yourself up for even greater success in 2016.
Share this article
---
About Our Small Business News
Our reporters publish news articles for entrepreneurs five days a week. Our small business news articles review trends in entrepreneurship, analyze the impact of new government policies, present relevant entrepreneurial research findings, and cover many other topics of interest to small business owners.
---
Additional Resources for Entrepreneurs