Small Business Marketing News
Urban Outfitters' Latest Marketing Gamble
Written by Tim Morral
Published: 9/18/2014
Urban Outfitters yanks bizarre Kent State sweatshirt from its online catalog in response to public outrage. But was it really just another example of the brand's unusual marketing strategy?
Recently, apparel retailer, Urban Outfitter, posted a sweatshirt on its online catalog labeled, "Vintage Kent State Sweatshirt." Splattered with what appeared to be faux blood stains, the item was clearly designed to exploit a 1970 incident in which the Ohio Army National Guard opened fire on Vietnam War protestors on the Kent State campus, killing 4 students and wounding 9 others.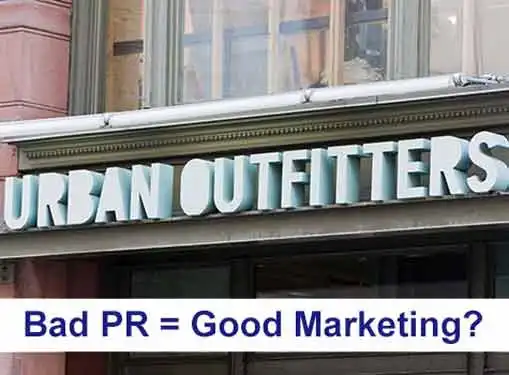 Not surprisingly, once the sweatshirt (advertised as a one-of-a-kind piece of merchandise) landed on the national radar, it was sharply criticized as inappropriate, pathetic and in bad taste. Urban Outfitters quickly pulled the item from its catalog and issued a vanilla apology via Twitter, regretting any offense the sweatshirt may have created.
But were Urban Outfitter's actions truly a mistake? Or were they another manifestation of a "no publicity is bad publicity" philosophy that falls outside of responsible marketing?
CNN Money and other media sources have noted that this isn't the first time Urban Outfitters has released controversial or offensive products. In the past, the brand has sold woman's T-shirts bearing the words, "Eat Less" and "Depression", shirts that resembled ones that Jews were made to wear in Nazi Germany, and a shirt featuring an AK-47-toting Palestinian youth over the word "Victimized."
While some industry insiders believe that Urban Outfitters intentionally engages in "outrage marketing" tactics to capture media attention and then removes the merchandise to extend the news cycle, others aren't so sure.
In an article at Inc.com, Erik Sherman said that Urban Outfitters' recent fiasco was caused by a lack of integration between marketing and other divisions of the company. Operating in isolation from other business units, marketing came up with an idea, fell in love with it and rolled it out--oblivious to the implications it would have for customers and other dimensions of the business.
To prevent these kinds of events, Sherman proposes that marketing can't be siloed or walled off from other parts of the company. Instead, brands need to provide cross-training, create cross-functional product teams and implement other strategies that foster greater collaboration between business units.
Whether Urban Apparel's recent debacle was intentional or not, businesses large and small need to carefully consider how marketing activities will impact their brands. By creating more integrated and collaborative workplaces, companies can minimize the potential for controversy and protect themselves from public relations disasters.
"No publicity is bad publicity." It's an old adage, but one that Urban Outfitters seems to have taken to heart.
Share this article
---
About Our News for Entrepreneurs
Our journalists cover all aspects of what entrepreneurs want and need to know. Our perspective is all about giving you news you can use to start and grow your business.
---
Additional Resources for Entrepreneurs