Small Business Startup
Opening a Nail Salons & Manicure Business
Launching a nail salon is a rewarding experience if you do it right. We provide nuts-and-bolts information that may be key to your ultimate success.
Wondering how to start a nail salon? We take you step-by-step from start to success.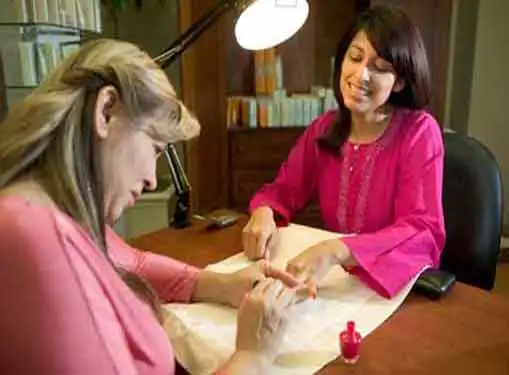 Startup Option for Nail & Manicure Professionals
The decision to launch a nail salon is a decision to become a full-fledged entrepreneur. And now that you're an entrepreneur, you'll need to start thinking like an entrepreneur, beginning with a careful evaluation of your startup options.
Many startup entrepreneurs have a vision of a standalone, upscale salon that features multiple stations, a broad menu of services and a luxury spa experience. Although this type of nail salon has its advantages, it may not be the best startup plan for cash-strapped entrepreneurs.
When resources are limited, a better idea may be to rent space in an existing spa or salon. With a little planning, you may be able to form a strategic alliance and mutually beneficial relationship with a hair salon that doesn't currently offer nail or manicure services.
Nail Salon Startup Costs
Compared to a manufacturing operation, the startup costs for nail salon and manicure businesses are low. However, you will still need to raise enough startup capital to cover monthly lease payments, salon equipment, supplies and other overhead requirements.
To protect your business during the startup phase, we recommend accumulating enough capital to cover your supplies and overhead expenses for the first six months before you open your doors. A six-month buffer may sound overly burdensome, but it will provide the cushion you need to acquire new customers and create a base of repeat clients.
Manicurist Training & Certification Requirements
If you're brand new to the nail and manicure industry, you'll need to navigate licensing and certification requirements before you can be cleared to work on fingers and feet. Each state has its own set of requirements for nail technicians, but licensing processes can include training, testing and/or apprenticeships.
To learn more about the licensing process and the nail salon industry in general, we advise new nail salon owners to explore industry groups like the Professional Beauty Association and informational websites like Manicure.com.
Proven Strategies for Nail Salon Business Plans
If you haven't written one before, a nail salon business plan can be a frustrating business requirement. If it's comprehensive and well-written, however, your business plan will serve as a strategic anchor point and a calling card for external stakeholders.
After you have written you plan, you'll also need to develop a strategy for your next steps.
A business plan distribution strategy represents the backend of your business planning requirements. Without exception, the most effective business plans also leverage an organized process for tracking business plan distribution.
Winning Local Support
New nail salons must work hard to gain the support of their local communities. In contrast to other types of businesses, nail salons are focused and localized operations. If people like you, they buy more from you. It's that simple, and that's why nail salons need to be active in their local communities.
Look Over the Competition
Before you open a nail salon in your town, it's a good idea to see how strong the competition is. Use the link below to find competitors in your area. Just enter your city, state and zip code to get a list of nail salons in your community.
Prior to opening your doors for business, be sure you fully understand the competitive landscape and where your new business will fit in.
Turning Competitors Into Collaborators
If you want to open a nail salon it's a wise move to learn from folks who are already in business. It's very unlikely that the local competition will talk to you. Why would they want to educate a future competitor?
On the other hand, an individual who has a nail salon in another town can be a great learning resource for you, after they realize you reside far away from them and won't be stealing their local customers. In fact, they are often very willing to share startup advice with you. It can take a while to find an entrepreneur who is willing to talk, but it's well worth the effort.
Where do you find somebody who runs a nail salon in a different locale who can assist you?
Here's one way to do it. Just use our link below, find somebody and call them.
Leveraging the Branding Benefits of a Nail Salon Acquisition
Startup nail salons typically suffer when it comes to brand recognition because unlike entrenched competitors, new brands lack visibility and history with their customers.
To compensate, one of the techniques entrepreneurs use is to buy a business to get an established brand. As a startup, the best you can hope for is to gradually develop brand awareness over a period of months and years.
However, a nail salon acquisition can put you at the helm of a brand that is already highly trusted by your target market.
Franchising May Be a Better Way to Go
You should know that your odds of growing your business are substantially improved if you buy a franchise and leverage their successful brand and track record.
As part of your process in starting a nail salon, you may want to investigate whether franchising might alleviate your startup process.
The link below gives you access to our franchise directory so you can see if there's a franchise opportunity for you. You might even find something that points you in a completely different direction.
Entrepreneur Interviews
These interviews should be of interest to you.
Other Useful Articles for Startup Entrepreneurs
These additional resources regarding getting started as an entrepreneur may be of interest to you.
Questions to Ask Before Starting a Business


Share this article
---
Additional Resources for Entrepreneurs