How to Become an Entrepreneur
Opening a Yarn Shop
Need some advice on opening a yarn shop? This article explains exactly what you need to do to get started.
Wondering how to start a yarn shop? We take you step-by-step from start to success.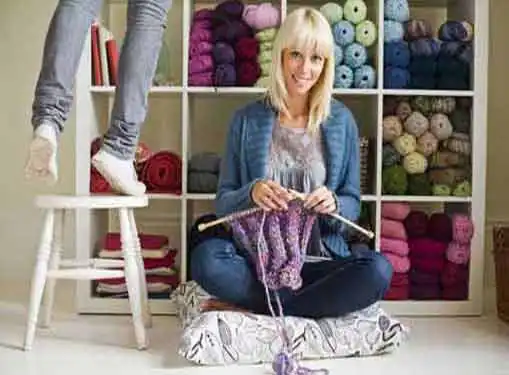 Yarn Shop Essentials
A yarn shop is a great way to turn your passion for knitting into a full-time career. But for your yarn shop to succeed, you'll need to approach it as more than just a hobby. A yarn shop startup is a real business and if you don't take it seriously, the financial impact could be devastating.
As a first step toward introducing an entrepreneurial emphasis into your knitting activities, we suggest joining a trade organization like the Knitting Guild Association. The Knitting Guild and other trade groups offer resources to help their members become skilled retail business owners as well as the opportunity to make contacts that will contribute to your yarn shop's success.
Creating a Community Around a Yarn Shop Startup
Unless you are the exclusive worldwide retailer of yak hair yarn or some other hard-to-find product, it's unlikely that your startup will be able to survive by waiting for customers to come to you. Instead, you'll need to devise create strategies to lure prospective customers to your store.
One of the strategies for doing this is to create a community around your yarn shop. The creation of a store-based community will require you to actively promote your business throughout your area and leverage classes, clubs or other activities to coalesce your customers into shared-interest groups.
With a little additional effort, you can enhance your yarn shop community even further through social networking activities on Facebook and Twitter.
Yarn Shop Expansion Possibilities
Most yarn shop owners approach growth as an opportunity to expand the size of their current site or add another store location. Multi-site and in-store expansion are both viable business strategies worth considering.
But there may be another, more cost-efficient way to expand your operation. The addition of an online store to your business website can increase your market reach and revenues without incurring the cost of a brick-and-mortar expansion.
Tips for Generating a Top Quality Yarn Shop Business Plan
A good business plan is the foundation of your entrepreneurial journey. Despite the diversity that exists in business plan writing, there are several essential elements that good business plans simply must include.
Business plan software eliminates the guesswork, insulating your yarn shop from the possibility of critical omissions. The best business plan solutions can be tailored by industry, incorporating highly relevant metrics into your yarn shop's business plan.
Our list of business plan software packages offers a comprehensive guide to the best solutions on the market.
Scoping Out the Local Market
Because your yarn shop will be largely focused on local customers, one of your first planning steps is to strategically define your local territory. More often than you'd think we would, we encounter yarn shops that are struggling because the owner failed to properly identify and sell to a local market. Avoid that mistake by doing full due diligence on local market demographics.
Take a Look at Competitors
Prior to launching a yarn shop within your community, it's essential to see how you will fit in the competitive landscape. We've provided the link below to help you generate a list of competitors in your city. Just enter your city, state and zip code to get a list of yarn shops in your community.
How tough is the competition in the market you are considering? If the competition is too tough, you may need to think about starting the business in a different area or even start a completely different business instead.
Studying the Market
Once you've finished assessing the competion, you really ought to learn from folks who are already in business. It's very unlikely that the local competition will talk to you. Why would they want to educate a future competitor?
On the other hand, an individual who has a yarn shop in a location that is not competitive to you may be willing to share their entrepreneurial wisdom with you, as long as they don't view you as a competitive threat. In fact, they are often very willing to share startup advice with you. It can take a while to find an entrepreneur who is willing to talk, but it's well worth the effort.
Where can you find somebody who runs a yarn shop that lives outside of your area?
No problem! Just use the link below and try a random city/state or zipcode. Then start dialing for advice until you are successful.
Reasons to Pursue a Yarn Shop Acquisition
More than a few experts advise prospective yarn shop startup entrepreneurs to pursue an acquisition strategy. But what's so great about a yarn shop acquisition?
The availability of acquisition capital should be a major factor in your decision. Commercial lenders are usually more inclined to fund acquisitions than startups.
Although there are a lot of factors to consider, the decision to buy a business to get acquisition capital almost always pays off.
Don't Forget About Franchising As an Option
Recognize that your chances of making a success of your new business are much greater if you buy a franchise rather than going it alone.
Prior to making the decision to open a yarn shop, it's worthwhile to check out whether buying a franchise could be the right move for you.
The link below gives you access to our franchise directory so you can see if there's a franchise opportunity for you. You might even find something that points you in a completely different direction.
Related Articles on Starting a Company
These additional resources regarding starting a business may be of interest to you.
Questions to Ask Before Starting a Business
Coming Up With Good Business Ideas


Share this article
---
Additional Resources for Entrepreneurs