Starting a Business
Opening an Advertising Agency
Launching an advertising agency can get you on the path to a secure financial future as long as you separate yourself from the competition. Here are nuts-and-bolts information on the essential elements for business success.
We've assembled some useful information on how to go about opening an advertising agency.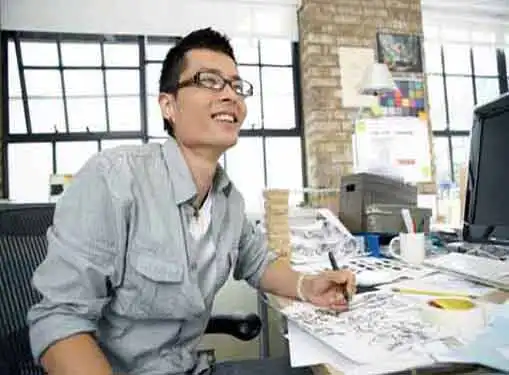 Advertising Industry Overview
Advertising is a highly competitive industry that is definitely not for the faint of heart. It's also an industry in which startups tend to come and go at a rapid pace. So before you invest any real capital in an advertising startup, you'll need to do a reality check about your motivations and qualifications for starting an advertising agency.
Although we've all heard of someone who successfully launched an agency right out of college, that entrepreneurial model isn't the norm. The vast majority of successful ad agency owners worked as advertising professionals for a period of time before they struck out on their own.
A work history in advertising accomplishes a couple of essential things. First, it gives you real world experience in the industry, giving you valuable insight into the advertising strategies and business mechanics it takes to success in advertising. Secondly, a track record in advertising gives you time to accumulate industry contacts through business networking. These contacts will be extremely useful once you make the decision to start your own agency.
Ad Agency Launch Tips
Organizations like the American Advertising Federation (AAF) and the American Association of Advertising Agencies (4As) offer tons of resources and support for ad agency entrepreneurs. But to survive your startup's critical first year, you're going to need to implement and execute several key startup strategies and launch tips.
Specialize. The marketing and advertising is simply too diverse for startups to succeed with a shotgun approach. Based on your team's experience and strengths, you'll need to narrow down your area of expertise and industry focus to a handful of specializations.
Hire Smart. Your college roommate is probably a great guy. But that doesn't necessarily qualify him as a smart hire for your agency startup. While it's important to hire people you trust, it's equally important to hire people who are qualified to execute your ad agency's core competencies.
Build on Your Success. Most of the projects you take will be limited duration jobs. But the best ad agencies use success in one area as a springboard to suggest additional advertising and marketing engagements to the client, which increases the value of each clients and allows you to showcase your agency's full potential.
Use Good Business Sense. A lot of ad agency entrepreneurs are very creative, but lack solid business skills. As the business owner, you need to think like a business owner -- and either educate yourself or hire business savvy personnel to compensate for your entrepreneurial shortcomings.
How Advertising Agencies Make Money
Advertising agencies can make money from fees for their creative services and from agency commission fees paid by media outlets.
The first revenue stream is self-explanatory. You will be paid by clients for conceptualizing their advertisements and creating them. This includes work done to create any type of advertisement: web, print, TV, outdoor advertising (e.g. billboard ads) and radio.
The second revenue stream is paid to the advertising agency by the media outlet that runs the ad, not by the advertising agency's client. Typically, the ad agency receives a 15% fee, although there is some downward pressure now on this age-old commission rate.
Should you keep the fee for your agency or pass some of it along to your clients in the form of discounted ad rates? That's a strategic decision you'll need to make, and it's something you should decide before your advertising agency is up and running -- address it in your advertising agency business plan explicitly and build the decision you make into your pro forma financial projections.
Proven Strategies for Advertising Agency Business Plans
If you haven't written one before, an advertising agency business plan can be a frustrating business requirement. If it's comprehensive and well-written, however, your business plan will serve as a strategic anchor point and a calling card for external stakeholders.
After the plan has been completed, its effectiveness will largely depend on what you do next.
A business plan distribution strategy represents the backend of your business planning requirements. To help monitor your progress, you'll need to implement a system for tracking business plan distribution in your startup.
Investigate the Competition
Well in advance of opening an advertising agency in your area, it's essential to see how strong the competition is. Use the link below to find competitors in your city. After clicking on the link, type in your city, state and zip code to get a list of advertising agencies near you.
It's important to be aware of what the competition is doing. Take the time to visit the competition to properly assess their strengths and weaknesses.
A Good Source of Advice
If you are seriously contemplating launching an advertising agency, it's a smart move to talk to somebody who is already in the business. If you think owners of nearby advertising agencies will give you advice, think again. The last thing they want to do is help you to be a better competitor.
However, a fellow entrepreneur who has started an advertising agency outside of your community can be a great learning resource for you, once they realize that you are not going to directly compete with them in their community. In fact, they are often very willing to share startup advice with you. If you are persistent, you can find a business mentor who is willing to help you out.
How would you find an advertising agency entrepreneur on the other side of the country to talk to?
It's easy. Here's a link you can use to find a mentor outside of your area.
Branding Advantages of Buying an Advertising Agency
Startup advertising agencies typically suffer when it comes to brand recognition because unlike entrenched competitors, new brands lack visibility and history with their customers.
To compensate, one of the techniques entrepreneurs use is to buy a business to get an established brand. As a startup, the best you can hope for is to gradually develop brand awareness over a period of months and years.
However, an advertising agency acquisition can put you at the helm of a brand that is already highly trusted by your target market.
Don't Forget About Franchising As an Option
If done right, a small business startup takes months and months of preparations just to lay the groundwork for the first day of business.
That makes franchising an attractive alternative to traditional business startups. By clicking the link below, you'll access the Gaebler advertising franchise directory, a valuable resource for finding the best advertising agency franchise opportunities in the industry.
Related Articles on Starting a Company
These additional resources regarding starting a business may be of interest to you.
Share this article
---
Additional Resources for Entrepreneurs