Advice for Retailers
Pop-Up Stores
Does it seem like small retail stores are popping up everywhere lately? It's an intentional retail strategy called pop-up retailing - and pop-up stores are presenting major challenges to traditional brick and mortar retailers.
If you look around your community, you will probably notice several retail establishments that appear on the scene for a few weeks or months and then suddenly disappear.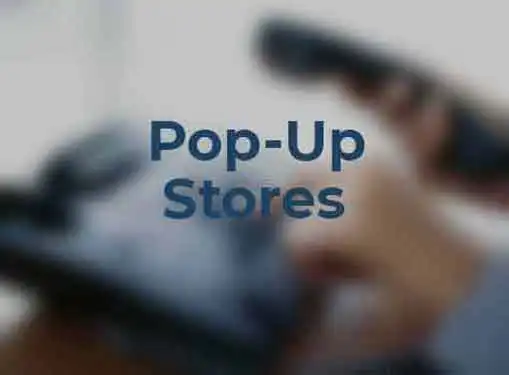 Consumers tend to write off these stores as victims of the economic downturn, but experienced retailers know better. Known as "pop-up" stores, these temporary operations have created a new retail category that is challenging long-held assumptions in the business community.
Historically, retail meant securing a long-term lease on a business space and preparing to navigate the annual cycle of sales peaks and troughs. In recent years, online retailing and e-commerce have eliminated the brick-and-mortar requirement, while maintaining a constant presence in the virtual marketplace.
Pop-up stores are designed to leverage the advantages of traditional and online retailing. Instead of signing a long-term lease, these stores are designed to be temporary in nature, often existing only during peak shopping seasons. This gives them the same advantage as online retailers because it eliminates expensive real estate overhead. But unlike online retailers, they also enjoy a physical store presence, if only for a limited period of time.
Pop-Up Retail Overview
The pop-up concept isn't new. Traveling retailers and salespeople have made the rounds for centuries, basing their business model on temporary stands in high traffic locations. Today's pop-up shop retailers take that concept a step further by mimicking the appearance of an established retailer for a short duration.
There are a number of reasons why a retailer might want to establish a pop-up retail site. Some use it as a tool to test a new business concept. Instead of risking expense overhead costs on a new concept or market, they can achieve the same results with limited financial exposure. Other retailers use pop-up shops to unload extra inventory or generate buzz for a new product.
Retailers interested in leveraging the pop-up concept need to understand the business model and develop a legitimate reason for pursuing a short-term retail strategy. Although new retailers can minimize their exposure through this retail model, it can be difficult to build customer loyalty if they change locations after a few short weeks or months.
Although many pop-up stores are located in kiosks, it's not unusual to see these kinds of retail operations in a traditional retail space or shopping plaza. Malls are high priority targets for pop-up retailers because they guarantee foot traffic. With more than 12% of retail spaces currently vacant, pop-up retailers are positioned to take advantage of good deals on short-term space.
Share this article
---
Additional Resources for Entrepreneurs