Finding Investors for a New Business
Private Investors
Capital is the engine that drives business growth. Although investments by friends and family members are a necessity for many new entrepreneurs, there are several reasons why it's important to secure money from other private investors as early as possible.
Investment and business growth go hand in hand.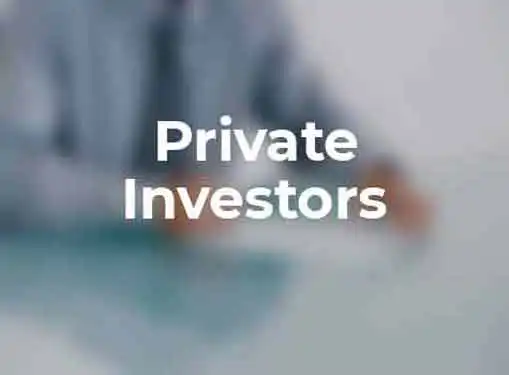 Without access to investment capital, startups and early stage companies are unlikely to reach growth benchmarks -- not because they lack potential, but because they lack the resources it takes to seriously compete in the marketplace.
Since the acquisition of investment capital can be challenging even for experienced entrepreneurs, startup small business owners commonly rely on friends and family members to fund their companies during startup and early growth stages. Although there isn't anything wrong with borrowing money from friends and family, there are many reasons why entrepreneurs should supplement investments from friends and family members with the participation of other private investors.
Why Do I Need Private Investors?
In the short term, the money your business receives from personal acquaintances is just as good as the money you receive from other types of private investors. But over the long-term, private investors offer advantages that are beyond the reach of the average friend or family member.
For example, private investors have much deeper pockets than personal acquaintances. It may be possible to raise adequate capital without private investors during the startup round, but it's unlikely that relatives or social contacts will have the capacity to fund subsequent investment rounds, particularly if the business is preparing to leap to the next growth bracket. By establishing relationships with private investors earlier, you can position your company to benefit in later funding rounds.
In addition to financial capacity, private investors often bring industry experience and networking connections to the table. In some cases, the consultative value alone makes it worth pursuing relationships with one or more private investors.
Finally, private investors give young companies credibility. When an established private investor decides to invest in an early stage company, it tells the marketplace that the company is a serious competitor with potential for growth and long-term viability.
Types of Private Investors
"Private investor" is a vague term that covers a range of business investors and investment groups. In general, a private investor is any company or individual that uses their money to help a business grow, with the expectation that they will be financially compensated when the business reaches predetermined targets.
It's not uncommon for private investors to take an ownership stake in the business and to exert a level of influence or control in the organization. For example, private investors may require a board seat(s) as a condition of investment.
Although investors come in many forms, the most common types of private investors are Private Equity Investors, Venture Capitalists and Angel Investors.
Private Equity (PE) Investors. Private equity investors are private individuals or private equity firms that provide capital for a range of purposes: to purchase a company, to fund specific growth initiatives or to meet a growing company's general investment goals.
Venture Capitalists (VCs). A venture capital firm is comprised of private investors specializing in young or startup companies with high growth potential. VCs are also known for taking an active role in helping their investments leverage strategy and expertise to achieve growth.
Angel Investors. Angel investors are individuals and entrepreneurs who help fund startups and very early stage companies. Although angel investors usually invest smaller amounts than VC firms, they can provide substantial amounts of expertise and networking relationships to young companies.
The process of raising money from angel investors and other types of private investors requires research, planning and the development of a solid pitch that can be adapted to the interests and investment goals of specific investors. But with a strong business plan and diligence, many entrepreneurs discover that securing private investors can be a productive way to achieve long-term success.
Share this article
---
Additional Resources for Entrepreneurs